Lionel Messi, Barcelona shred Sevilla for fourth straight Copa Del Rey crown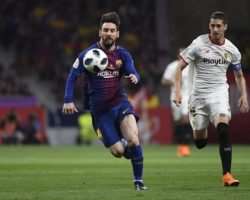 Of the many silly Lionel Messi narratives, one of the silliest is that the greatest player soccer has ever seen doesn't perform on the biggest stages. It's a slight that gets peddled every four years, and intermittently in between. It ignores the fact that Messi, at least when wearing the garnet and blue of Barcelona, is as prolific as anybody when silverware is on the line.
And he was as good as ever on Saturday to prove that very point.
Messi equaled a Spanish record by scoring in his fifth Copa Del Rey final, and led Barcelona to its fourth King's Cup triumph in a row. In the end, it was a convincing 5-0 rout. And Messi was the catalyst.
He was the catalyst just as he's so often been in tournament finals throughout his career. He won his sixth Copa Del Rey, scored his sixth final goal, and tallied his fifth and sixth final assists. According to some statisticians, he won his 21st final in 27 tries overall. He scored his 28th final goal.
And on top of the statistics on Saturday, he  made Sevilla look foolish without even touching the ball .
Andres Iniesta turned in a virtuoso performance as well in what will likely be his last cup final at Barcelona. He'll reportedly depart for China at season's end, with 32 Barcelona titles to his name. He received an  emotional sendoff  when he was substituted in the 87th minute, and later when he lifted the trophy.
Neither Messi nor Iniesta played a direct part in the first of the five goals, the one that set the Catalan giants on their way.  Jasper Cillessen's 100-yard ball somehow put Philippe Coutinho in behind the Sevilla defense, all alone. The Brazilian set up Luis Suarez for Barca's opener.
Messi took over thereafter. His clever movement at the edge of the penalty area allowed him to sneak into space, latch onto Jordi Alba's back heel, and double the lead.
Then he turned provider. In transition, with the obvious pass out right to Coutinho, he instead split Sevilla's defense with a first-time through-ball to Suarez.
In the second half, he fed Iniesta, and Don Andres worked his magic to finish from a tight angle.
With the game decided later in the second half, Messi ceded penalty-taking duties to Coutinho, who had been excellent and deserved to get on the scoresheet. He did just that from the spot.
There will be time later in the season to discuss where the Copa Del Rey crown, which will soon be part of a domestic double, leaves Barcelona's season in terms of success and failure, fulfillment and disappointment. And there will be plenty of time to discuss the  direction of the club .
But Saturday was impressive. It was emphatic. It was a day for celebration – of success, of the greatest player ever, and of his role in that success.
It made Barca the first club since the 1930s to lift four Copa Del Rey trophies in a row. Now it can focus on  making more Spanish history in La Liga .