Ronaldo Thwarts Juventus's comeback on controversial stoppage time penalty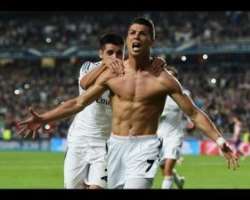 Real Madrid and Cristiano Ronaldo watched rival Barcelona blow a three-goal lead in the Champions League to be dumped unceremoniously out of the competition by Italian opposition. A day later, they nearly suffered the same fate.
Real Madrid let its three-goal lead over Juventus slip away, but Ronaldo scored on a controversial penalty kick at the death, sending Real Madrid through on a 4-3 aggregate triumph despite a 3-1 loss on the day.
Lucas Vazquez drew the penalty in stoppage time, absorbing a bump from behind while he attempted to play a Ronaldo cross. Gianluigi Buffon was sent off in the aftermath, exploding at referee Michael Oliver, leaving his backup, Wojciech Szczesny to defend the decisive PK. Ronaldo finished confidently, preventing the tie from going to extra time and keeping Real's quest for a three-peat alive.
Ronaldo's sensational bicycle kick capped a two-goal outing for him in the first leg, and Marcelo's third gave Real Madrid a comfortable 3-0 lead as it returned home. Making matters worse for Juventus was that it didn't have one of its top attacking talents, Paulo Dybala, who was sent off in the first leg.
Real Madrid was thinned out in defense, though, after the suspension of Sergio Ramos, which perhaps left a slight crack in the door for a Juventus team that had little to lose by going all out in the attack.
Juventus got after it early. After pouncing on a turnover in midfield, Sami Khedira wound up with the ball on the right channel, from where he delivered a perfect cross for Mario Mandzukic. The Croatian international, who scored a highlight-reel goal in last season's Champions League final vs. Real Madrid, headed home in the second minute to bring Juventus within two goals.
Juventus nearly scored again in the seventh minute, but Keylor Navas managed to make a double save, first parrying Douglas Costa's attempt, then smothering Gonzalo Higuain's frantic follow-up, keeping Real Madrid ahead 3-1 on aggregate.
Real Madrid was close to restoring its three-goal edge a couple of minutes later, when Gareth Bale had a close-range chance saved by Buffon. Bale attempted to back-heel the rebound home, but put his chance just wide
Mandzukic pulled Juventus within one in the 37th minute. It came off another header by the far post, with Stephan Liechtsteiner, on as an injury replacement for Mattia De Sciglio, serving in the cross from the right.
Ronaldo came close to thwarting Juventus's comeback in the 58th, taking a cross in the center of the box only to put his low chance in a place where Buffon could make the relatively simple save while going down to his right.
That miss proved costly. Juventus clawed all the way back three minutes later after an error from Navas. He bobbled a catch off a Douglas Costa blast with Blaise Matuidi bearing down on him, and that spill allowed Matuidi to tap in the equalizer. With the three away goals, Juventus pulled level on aggregate and the tiebreaker, and a fourth would force Real Madrid to need two to go through.
Sports illustrated