NGO Organizes Football Tournament For Jos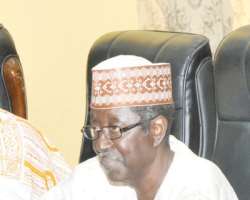 PHOTO: PLATEAU STATE GOVERNOR MR. JONAH DAVID JANG.
JOS, June 10, (THEWILL) - To promote peaceful co-existence among Christians and Muslims in Jos, an Italian based Non-Governmental Organization NGO known as APURIMAC in collaboration with a Nigerian-based one, AUGUSTINIAN Province has organized a football tournament for Christians and Muslims youths aimed at fostering unity in the state.

The tournament is tagged "CHRISLAM."
Project Officer of the NGO, Godwin Okoko said the CHRISLAM tournament is an annual inter-religious football geared towards promoting peace and harmony between the Christians and Muslims in their various communities in case of any conflict.

He said when the youths from different religious and ethnic group meet together and participate in a spotting activities particularly football competition such as this they would get to understand and trust themselves and even forget their differences.

Okoko added "Besides promoting peace and harmonious relationship, we are discovering talent and promote the talents in our little way".

The Project Officer disclosed that one of the requirements for the selection in participating was that each team must be comprised of both the Christians and Muslims.

John David and Usman Abu both players who participated in the peace tournament said they were very happy coming together as Muslims and Christians to play together and advised the government, through the state ministry of youth and sports, to sustain the initiative as it will go long way to promoting peace in the state.