Iceland announces its leaders won't attend World Cup tournament in Russia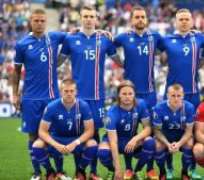 Government leaders from Iceland are joining British officials in staying home from the World Cup this summer in Russia.
The British government announced March 14 that politicians and members of the royal family will stay away from the global sporting event that begins June 14. Iceland followed suit in a decision announced Monday.
Iceland's foreign minister Gudlaugur Thor tweeted that his country stands with the UK over an attack against a former Russian spy in England.
In a statement from the Ministry for Foreign Affairs, the government calls the attack against Sergei Skripal and his daughter in Salisbury "a grave violation of international law and threatens security and peace in Europe."
"Among the measures taken by Iceland is the temporary postponement of all high-level bilateral dialogue with Russian authorities," the statement said. "Consequently, Icelandic leaders will not attend the FIFA World Cup in Russia this summer."