Pre-World Cup friendly: Jesse Lingard's goal makes the difference as England beat Netherlands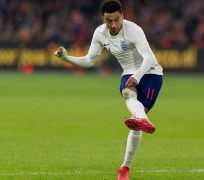 It is 49 years since England last won in Amsterdam, with Alf Ramsey as manager, Colin Bell scoring an 84th-minute winner and Emlyn Hughes winning his first cap, so Gareth Southgate and his players are entitled to feel pleased with themselves now they have recorded their first victory here against the Oranje since the year man set foot on the moon.
After that kind of wait, perhaps it might be slightly impertinent to point out that we saw here why this is regarded as the worst Dutch side for a long time. England certainly chose obliging opponents and on this evidence, with the stadium barely half-full by the final whistle, it is very clear that a win against this lot cannot be considered the prize it once was.
Equally, England can still reflect on a satisfying evening after Jesse Lingard's winning goal, a clean sheet for Jordan Pickford and – if we are to be grateful for small mercies – nothing too horrendous from the end decorated with St George's flags.
Well, apart from the usual brainless attempt to drown out another country's national anthem. Over two days, more than 100 England fans have been arrested but at least when it comes to the actual football it was the other country who should be the more embarrassed.
Not that anyone in the England set-up should get too carried away just yet. The game against Italy at Wembley on Tuesday should provide a more realistic gauge of England's World Cup preparations and, even in victory, there are still legitimate questions to be asked of Southgate when his team selections show so little in the way of pattern or structure.
He started here with three players who usually operate as right-backs for their clubs, but without one actually playing as a right-back. Danny Rose's selection in the left wing-back role shows Southgate must have abandoned his policy of not picking players who are out of favour at their clubs and it would be intriguing to know what Harry Maguire, James Tarkowski and Alfie Mawson made of Kyle Walker being asked to experiment as a centre-half.
England fringe players get chance as Gareth Southgate seeks elusive plan
Read more
As it happened, Maguire came on in the 10th minute because of an early injury for Joe Gomez, who plays right-back for Liverpool but started here on the left of England's back three.
Confused? England should be glad this was such a poor Dutch side because the lack of clear strategy can seem bizarre, particularly when there are only three games now – or 270 minutes – to finalise their plans.
On that front, Southgate will at least have a better idea now why Rose has fallen out of favour with Mauricio Pochettino at Tottenham. Rose was involved in the goal but his overall performance was poor and, on the other side, Kieran Trippier did not do enough to disprove the theory that Walker is better equipped for the role.
On a brighter note, England did show at times that they have a good mix of movement and speed in attack and, having offered very little during the first half, they are also entitled to think they should have been awarded a penalty six minutes after the restart. Marcus Rashford's speed caught out Matthijs de Ligt and the goalkeeper, Jeroen Zoet, should not have come haring off his line.
Rashford was ahead of them both but the Spanish referee, Jesús Gil Manzano, was some way back and gave De Ligt the benefit of the doubt for the sliding tackle that brought down England's striker.
England's only noteworthy chance of the first half had come just after the half-hour mark when Jordan Henderson, probably England's best player on the night, headed Trippier's free-kick wide.
After the interval, however, they started to pass the ball with greater purpose and it became even clearer why this Dutch side have not qualified for the World Cup.
Ronald Koeman, their new manager, spoke afterwards about the slow tempo and lack of momentum when his team had the ball, plus a lack of creativity in attacking positions.
England hardly set the world alight on that front either, but they did have the pace of Rashford, Lingard and Raheem Sterling and when they took the lead, in the 59th minute, it was in the midst of their most productive spell of the match.
Lingard was involved in the move, spreading the ball to Rose on the left and then hung back to see if the ball might come back his way on the edge of the penalty area.
Stefan de Vrij's attempt to clear the danger succeeded only in presenting the ball to his opponent and Lingard, 20 yards out, had the time and space to pick his spot.
His low shot was aimed to Zoet's right and, though the goalkeeper did get his hand to the ball, he could not prevent it ending up in the bottom corner. After that, Southgate brought on Dele Alli, Jamie Vardy and Danny Welbeck in one go, with Ashley Young later replacing Rose.
England's manager had said before the match that he wanted the newcomers in his squad to play with confidence and make the most of their opportunity.
Pickford did just that and, as Southgate pointed out, the team's new first-choice goalkeeper was also involved at the start of the move that led to the goal. Yet Mawson, Tarkowski and Lewis Cook will have to hope they make their debuts on Tuesday.