Why Eden Hazard, Andreas Christensen are key to Chelsea's hopes vs. Barca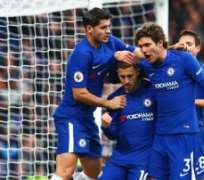 On Wednesday, Chelsea will enter the glare of Camp Nou when they face Barcelona in the deciding leg of their Champions League round-of-16 tie. Having produced displays veering from the sublime to the ridiculous in recent weeks, there will be significant scrutiny of the Londoners' collective display, the manager's tactics and team selection. The spotlight, however, might just be shining a little brighter on a few of their key players.
As usual, the main object of attention from a Blues perspective will be Eden Hazard. While his outrageous talent always sees him as the focal point of any starting XI, that Chelsea have relied upon him even more than normal this season means that their chances of succeeding weigh far more on his shoulders than any of his teammates'.
Throughout his career, the Belgian continually has been measured against Lionel Messi, and while clearly having never reached the Argentine's ludicrously dazzling heights, it could be argued that he outshone his opposite number in the first leg. If Hazard can repeat the trick in Catalonia, then Chelsea might just cause an upset. The problem for him is that he is unlikely to see much of the ball with Barcelona expected to dominate possession and camp in Chelsea's half. But it is what he does on the few occasions when he has the ball at his feet that will be pivotal.
Hazard was dynamic, incisive and decisive in the first leg, but less so in the 1-0 defeat to Manchester City. Thankfully, it looks like he will not be asked to lead the line again, so he should have more opportunities to get involved, but that merely increases the responsibility upon him to produce.
At the other end of the pitch, Andreas Christensen will be steeling himself for another serious examination. In the past few weeks, the 21-year-old has suffered his first real difficult period since breaking into the first team, and he will be desperate to come through Wednesday without blotting his copybook. He has enjoyed an exceptional campaign since returning from his two-year loan to Borussia Monchengladbach, but has seen the odd error creep into his game to costly effect.
Mistakes in three consecutive games against Barcelona, Manchester United and Manchester City resulted in the concession of a goal and he almost made it four in a row when he mis-controlled the ball on the edge of his own area against Crystal Palace on Saturday. To Christensen's relief, Alexander Sorloth's subsequent shot struck the upright rather than the back of the net.
Christensen certainly will have his hands full dealing with the likes of Messi and Luis Suarez, though he illustrated in the meeting at Stamford Bridge that he is up to the task. He just needs to maintain his concentration and precision for 90 minutes, possibly 120, if he is to come through unscathed.
In the heart of the action, Cesc Fabregas' contribution also will be telling, assuming that Antonio Conte continues with the same midfield combination that he selected in the first leg. The Spaniard's use of the ball will indicate how many genuine moments of danger Chelsea can produce, and he will need to employ every ounce of his vision, technique and ingenuity to ensure he can turn defence into attack as often as possible.
It was something that he was unable to do at the Etihad Stadium, and it meant that his teammates were largely rooted in their own defensive third with no visible means of escape. A repeat of that performance and Chelsea can kiss any chance of success good bye, though they hope returning to his old club and playing in front of his former supporters will inspire Fabregas to produce one of his more effective displays. Although not his strongest point, he will be needed to fill in gaps, keep the team shape and do his defensive duties. But, as with Hazard, his main responsibilities will be when he finds himself in possession.
While the three players mentioned all will play central roles in Chelsea's performance in Barcelona, it goes without saying that every single one of the visitors who takes the field will have to be at their best. They will need the perfect performance — or at least a healthy dose of good fortune — to have a chance of knocking out the leaders of La Liga.
Things could not have started much worse on Chelsea's last trip to Camp Nou, with Gary Cahill getting injured, John Terry being sent off and falling two goals behind before half-time while Jose Bosingwa filled in at centre-back. The rest is history, with Chelsea's fightback emanating from the strength of character exhibited by titans such as Frank Lampard, Didier Drogba and Ashley Cole. The current squad has nobody of that ilk, and recent results have exposed some of their fragility in that regard.
Nevertheless, this is a chance for them to stand up and be counted. And maybe, just maybe, see lightning strike twice at Camp Nou.