Campions league: Shakhtar Donetsk beat Roma 2-1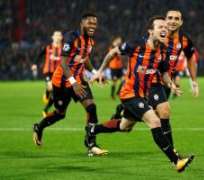 Shakhtar Donetsk is in position to continue its impressive run in the Champions League after delivering Roma a 2-1 defeat in the first leg of their round of 16 series.
Shakhtar pipped Napoli to second place in their group and delivered Manchester City its first loss of the season in any competition and battled back from a goal down Wednesday, with Facundo Ferreyra and Fred scoring in the second half to combat Cengiz Under's opener just before halftime.
The teams traded early golden chances. Shakhtar had the opening one, with a cross intended for Fred just a bit out of reach for the reported Man City target to steer it on frame.
On the other end, off a corner kick in the sixth minute, Edin Dzeko had a chance off a corner kick cleared off the line by Andriy Pyatov, and Federico Fazio's chance off the rebound was blocked by a defender.
Marlos came up with Shakhtar's next chance in the 13th minute, crossing over his defender and getting to the end line before sending in a ball to the goal mouth, only to have it smothered by Roma goalkeeper Alisson.
Dzeko threatened again in the 21st minute, forcing Pyatov into another save on a golden opportunity as the game continued its wide-open nature.
Roma found its breakthrough just before halftime. Under, the 20-year-old Turkish international, did the honors in the 41st minute with a key away goal, striking from close range after a precise pass from Dzeko to play him through.
Shakhtar didn't wait long to equalize, tallying seven minutes into the second half. Bernard played Ferreyra through, and the forward crossed over Kostas Manolas in the box before sliding a finish by Alisson to make it 1-1.
It was nearly 2-1 Shakhtar moments later, when Marlos had a clean look from the center of the box, only for Alisson to make a sensational save to paw the chance to safety.