Antonio Conte not considering Chelsea exit; 'worried' over Alvaro Morata injury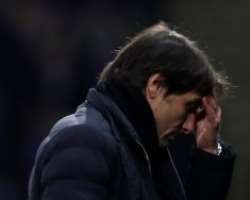 Antonio Conte has said he has no idea when Alvaro Morata will be fit to return from lingering back pain, and reiterated he is not thinking of leaving Chelsea after a torrid recent run of results.
A humiliating 4-1 loss against Watford on Monday prompted a fresh wave of reports that Conte might be sacked after a run of two wins in 10 matches in 2018, though Chelsea are reluctant to make a coaching change before the end of the season.
In a news conference on Friday, Conte insisted that the level of speculation surrounding his future is unfair and pointed to the injuries that Chelsea are dealing with — most notably Morata, who has not featured since being sent off in extra-time of Chelsea's penalty shootout win over Norwich City in an FA Cup third round replay last month.
"We are talking a lot about bad results but we forgot that we're facing a serious situation," Conte said. "Players like Morata are missing for a lot of time and we're struggling a lot to find the solution to the pain in his back. If you ask me if [he will be out] one day, one month, the rest of the season I don't know. For this reason I'm a bit worried."
Regarding speculation about his future, he added: "I'm not thinking for one moment the possibility of going away from this club. My commitment, the commitment of my players is totally for this club. You know that a lot of times the manager or coach depends on results. In this case we're having poor results and for this reason we must pay great attention.
"We have to try to stop this bad run, and to try to get three points [against West Brom]. It won't be easy because as you know very well in this type of situation, the confidence is not high. We have to work, we have concentrate on getting three points."
Alvaro Morata  GLYN KIRK/AFP/Getty Images
On a more positive note for Conte, new signing Olivier Giroud is in contention to face West Bromwich Albion on Monday, having made his debut from the substitutes' bench against Norwich. Andreas Christensen trained alone at Cobham on Friday, but Chelsea remain hopeful he could be fit.
Conte gave his players two extra days off after the Watford loss in an attempt to clear their minds and refresh their bodies amid a gruelling schedule.
"It was the only moment in the whole season to give them a bit of rest," Conte explained. "For this reason. I think in the future that it will be very important to try a little space, a little room for the [Football Association] to give a bit of rest to the players.
"After you play a lot of games in every three days, it's very difficult for every player, especially if you go through all competitions."
Asked if he had figured out what has gone wrong recently during this week's down time, Conte said: "I think we can talk about two different games, the same bad result but two different games. Against Bournemouth we created chances to score but we weren't so clinical and we paid a lot. We conceded three goals from three shots. Against Watford it was different because the performance was negative from the start.
"You must have personality to play the ball. Against Watford was a really bad game for us but it can happen. The most important thing is it happens only once.
"I think that in every situation we have to divide the responsibility, in positive and negative situations. When you have this period of [such] poor results, you have to divide responsibility with me, with the players, with the club."