Olivier Giroud would perfect answer for Chelsea: Parlour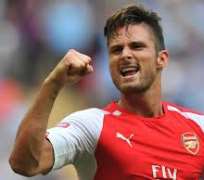 The former Arsenal star believes Antonio Conte should look at the France international to fix his striker problems
Former Arsenal midfielder Ray Parlour said Olivier Giroud would be the "perfect" signing for London rivals Chelsea, who are looking to provide support to Alvaro Morata.
Chelsea have been linked with surprising moves for West Ham's Andy Carroll and Stoke City veteran Peter Crouch as the Premier League champions attempt to bolster their forward stocks.
Giroud's future at Arsenal is uncertain, having only started one Premier League match this season amid reports of a possible move to Borussia Dortmund in the Bundesliga, and Parlour believes Antonio Conte should look at the France international
"He would be perfect," Parlour, 44, told Sky Sports .
"Whether Arsenal would want to lose another of their players to a rival is another matter.
"But I am sure if Chelsea put a decent bid in he would be tempted because he hasn't got to move, he can live in London, a bit like Petr Cech. He was settled in London and wanted to stay there."
Giroud seems to be on his way out with the Gunners.
The French forward has already been pushed down the pecking order by the arrival of Alexandre Lacazette, and Arsenal have been linked with Dorussia Dortmund striker Pierre-Emerick Aubameyang, who was  left out of the club's trip to face Hertha Berlin  .
The club have already allowed  forward Theo Walcott leave for Everton  , and while the departure of Alexis Sanchez seems imminent, the move will see Henrikh Mkhitaryan move to London, adding another attacking option to the side.
Giroud has been mentioned as part of a swap deal for Aubameyang, with Dortmund wanting a loan move for the forward according to reports.
The 31-year-old joined the Gunners in June of 2012 and has made over 150 appearances for the club, though his playing time has been limited this season.