Controversial penalty earns West Brom draw with Arsenal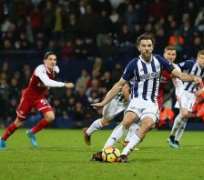 Arsenal were denied victory on their manager Arsene Wenger's big day as West Bromwich Albion snatched a dramatic late point in a 1-1 Premier League draw on Sunday.
In Wenger's record 811th game in charge, Alexis Sanchez's 83rd-minute free kick, deflected home by James McClean, seemed to have secured an Arsenal win.
But Calum Chambers was adjudged to have handled in the penalty area and Jay Rodriguez converted an 89th-minute spot-kick to help his side climb off the bottom of the table.
The Arsenal players were furious with the decision and Wenger was spoken to by referee Mike Dean but his team did climb above Tottenham Hotspur into fifth place in the table.
Arsenal manager Arsene Wenger in his post match comments said he believed referee Mike Dean "did not see" the incident that led him to award the late penalty to West Brom at The Hawthorns.
"Many years ago [former Arsenal vice-chairman] David Dein and myself fought hard for referees to become professional and they do a good job, but don't work enough," Wenger said.
"We have a very difficult schedule and I believe we fought hard to win the game, but didn't because of a bad decision.
"[Dean] didn't see it. There was a player in front of him. That's why I questioned his decision, he didn't see it."
West Brom boss Alan Pardew on his part noted that even though it was a tough decision against Arsenal, his team deserved at least a point from the game.
"It is a tough decision on Arsenal, but we deserved a break.
"If we keep going with that level of commitment, we will get the breaks to win.
"Liverpool was better, Everton was better, but we went toe-to-toe at times with Arsenal as much as we could, and they have got their rewards.
"We need to win a game, but we have not won, we have another point on the board but we need to turn them into wins by getting a second and third goal," he said. (Reuters/NAN)
VO/YAZ