GOALKEEPERS WAR (2)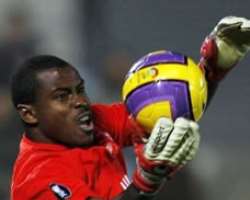 Enyeama
Paraguay
1.Diego Daniel Barreto Caceres (born July 16, 1981) is a Paraguayan football goalkeeper who started his career in the Club Cerro Porteño, being trained by Modesto Sandoval and was the team-mate of Aldo Bobadilla growing up in the youth divisions of Cerro.
He was part of the silver medal-winning Paraguayan football team in the 2004 Olympics. Paraguay booked a quarter-final place with two victories in the qualifying group, finishing second, and then beat South Korea in the quarter-finals and Iraq in the semi-finals, before losing to Argentina in the final.
In 2007 Barreto had a spell with Newell's Old Boys in Argentina, but failed to break into the 1st team, returning to Paraguay in January 2008. However, he signed again for the Argentine team in July 2008.
He also holds Italian passport.
2.Nigeria
Vincent Enyeama (born 29 August 1982) is a Nigerian football goalkeeper. Since 2002, he has played for the national team of Nigeria.Currently plays for Israeli Premier League club Hapoel Tel Aviv.
At 16, he started with semi-professional club Ibom Stars, played four seasons with local giants Enyimba Aba, before moving to Israel. During his spell with Enyimba he won the CAF Champions League twice, with one noteworthy mention: He was always substituted before penalty shootouts.
'I don't know why I was substituted before penalties, but it worked,' he said in an interview back in 2006. 'In Israel I stopped many penalties and now everyone knows that I can handle penalties.' After three seasons with Enyimba and one with FC Heartland, Enyeama moved to a minor club in Israel, Bnei Yehuda Tel Aviv.
3. USA
Timothy Matthew 'Tim' Howard (born March 6, 1979) is an American soccer goalkeeper who plays for Everton of England and the United States national team.
Tim Howard was born in North Brunswick, New Jersey to Matthew Howard, an African-American, and Esther Howard, a native of Hungary. His parents divorced when he was three years old, and Howard lived with his mother, a project manager for a cosmetics distributor. His father, a long-distance truck driver for a health care firm, nonetheless maintained a presence in his life. It was his father, in fact, who was determined to get Howard and his brother, Chris, involved in sports.
4. Portugal
Leixões Sport Club, commonly known as just Leixões, is a sports club from Matosinhos, Portugal. It is organized into several specialized departments for many events such as football, boxing, karate, volleyball, swimming, and billiards. Its professional football team is its most well known department.
5. DENMARK
Thomas Løvendahl Sørensen (born 12 June 1976 in Fredericia) is a Danish professional football goalkeeper, who currently plays for Stoke City. He is the starting goalkeeper for the Danish national team, the successor to the legendary Peter Schmeichel, and he has played more than 80 matches for his country. He has no major honours to his name, but did start for his country at the 2002 FIFA World Cup and 2004 European Championship tournaments.
6. New Zealand
Mark Nelson Paston (born December 13, 1976) is a New Zealand football (soccer) goalkeeper who plays for the Wellington Phoenix in the A-League.
His senior career began with Napier City Rovers before he moved to the United Kingdom in 2003 to join Bradford City. He followed this with a season at Walsall and then St Johnstone, before returning to New Zealand with the New Zealand Knights.
7. Cameroon
Idriss Carlos Kameni (born February 18, 1984 in Douala) is a Cameroonian footballer who currently plays for RCD Espanyol in the Spanish first division, as a goalkeeper.
Kameni was first spotted when, aged 16, he became the youngest footballer to win an Olympic gold medal, in 2000. This earned him a move to French club Le Havre AC but he was unable to break into the first team, and remained a reserve throughout his four-year stay, also being loaned to AS Saint-Étienne, and also failing to gain any playing time there.
8. Greece
Kontadinos 'Kostas' Chalkiasisa Greek footballer, born May 30, 1974 in Larissa, Greece. He stands 2.00 m (6 ft 6 1 D2 in) tall and plays in the goalkeeper position. He currently plays for PAOK F.C. Halkias started his career in the Panathinaikos youth academy in the 94/95 double winning PAO team and was loaned out for his first two seasons to Apollon Athens.
After he returned, he was forced to play third keeper to the legendary Jozef Wandzik and Greek legend Antonis Nikopolidis. He made a total of 25 starts over the next three years between 1998 and 2001 for Panathinaikos and was transferred for two seasons to Iraklis before good performances led to a return to Panathinaikos in the 03/04 season.