DROGBA TARGETS TROPHY, GOLDEN BOOT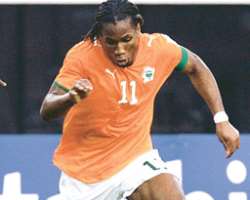 Didier Drogba
Cote d'Ivoire captain Didier Drogba plans to live up to his reputation as the man for the big occasion by out-gunning his rivals for the World Cup golden boot.
Drogba is already well-established as Chelsea's talisman on football's grandest stages after his seventh goal in six cup final appearances clinched a 1-0 victory over Portsmouth in this season's FA Cup final.
Now the 32-year-old striker believes he is capable of emulating those heroics with his country in South Africa.
Drogba will lead Cote d'Ivoire into battle brimming with confidence after the best season of his life.
He finished ahead of Wayne Rooney as the Premier League's top scorer with 29 goals thanks to a title-clinching hat-trick against Wigan on the final day of the season.
Six goals against Manchester United, Arsenal and Liverpool this season proved that even some of England's best defenders were no match for Drogba at his ferocious best.
If he can continue that form over the next month, the Ivory Coast have a chance of ending Africa's long wait for a first World Cup winner and Drogba is sure to be heading the tournament's scoring charts.
'I really hope so. If we can get through the group stages, I think we have a very strong chance,' Drogba said.
'It's important that we do well as a nation, but if I can win the World Cup Golden Boot as well, then it would be amazing.'
The likes of Rooney, Lionel Messi, Fernando Torres and Luis Fabiano are likely to light up the tournament with their own unquestionable talents, but few can match Drogba's potent combination of muscular power and lethal finishing.
Not only is Drogba going into the World Cup bolstered by his role in Chelsea's first ever Premier League and FA Cup double, but he also has the additional motivation of making amends for his last appearance in the global showpiece.
Sven Goran Eriksson's side have been drawn in a group which would make less confident players quake in their boots as they prepare to face five-time world champions Brazil and a serious title contender like Portugal.
In 2006 in Germany, Drogba was hampered by a knee injury as the Elephants failed to qualify from a tough group which included Argentina, Holland and Serbia.
Drogba scored his side's first ever World Cup finals goal in their defeat against Argentina, but he was suspended for the last group game and then coach Henri Michel admitted the striker's lack of form had been instrumental in the the disappointing results.
That let-down was one of the few low point in a career which has steadily risen to ever greater heights since Drogba made his debut for French club Le Mans in 1998.