HUNT FOR LIBERIA'S STOLEN WEALTH INTENSIFIES – REPORT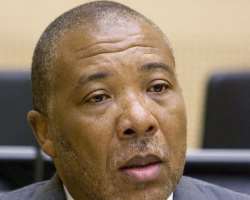 Liberian ex-president, Charles Taylor
How much money did Charles G. Taylor, the deposed president of Liberia, siphon out of his destitute, war-shattered country, and where is it?
For almost seven years, since an international warrant was issued for his arrest, the search has stretched from the mangrove swamps and diamond fields of West Africa to Swiss banks and shell corporations - a state-of-the-art version of the sweeping asset hunts that have accompanied the fall of autocrats since the shah of Iran's demise in the 1970s.
According to the New York Times, investigators have crawled in the dirt under porches and buildings in this impoverished capital to seek out financial records. They have confronted bankers and government officials on four continents. They have cross-referenced mazes of documents charting the transfer of millions of dollars into and out of dozens of accounts.
But they have come up dry for any money in Mr. Taylor's name. In fact, four years ago, Taylor was classified as 'partially indigent' by the Special Court for Sierra Leone at The Hague, where he is charged with instigating murder, mutilation, rape and sexual slavery during intertwined wars in Liberia and Sierra Leone that claimed more than 250,000 victims from 1989 to 2003.
That has left donor nations — the United States being the largest — to cover his monthly $100,000 legal bill and the broader costs of his $20 million trial.
But the investigators push on, and a review by the International Herald Tribune of court transcripts, bank records, and newly available government receipts and confidential prosecution memos indicates why they are reluctant to give up the hunt.
Some of the records show how the country's largest timber company sent tax payments to Mr. Taylor's private account rather than the national treasury. Others trace huge payments made by the dominant cellphone company to people suspected of being Taylor cronies. Others depict a web of front companies and banks from Hong Kong to New York involved in the movement of millions of dollars into Mr. Taylor's accounts in Liberia.
'Money would go to an arms dealer or an ally and from there to a money management firm and then back to Liberia, then cashed out and moved to another bank account,' said Thomas R. Creal, an accountant from Chicago who for five years has led the search for the United Nations.
Retained by Liberia, he and three law firms are developing a new strategy involving filing civil damage claims against companies, governments and international banks that they contend aided Mr. Taylor in illegal transactions.
The goal, after investigators have succeeded in freezing only about $8 million held by Taylor relatives and associates, is to win judgments for Liberia even if Taylor accounts cannot be found.
The estimates of hidden wealth — believed to have been extracted from Liberia's timber and diamond trades, its international merchant shipping registry, tax coffers and the government of Taiwan — run from as high as $3 billion to a middling range of $280 million. Mr. Taylor's own estimate is zero.
Last year, the flamboyant former warlord taunted prosecutors in court, dismissing the financial investigations as efforts to demonize him. 'I challenge any human being or organization in this world — I mean this planet — to bring one bank account that Charles Taylor has money in,' he said. 'I have heard the prosecutor blatantly lie, saying, 'We found millions.' Bring the millions here.'