Real Madrid through to Champions League final despite defeat by Atlético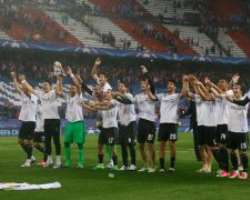 As expected, it will be Real Madrid who travel to Cardiff to play Juventus in yet another Champions League final, their third in four years, after an entertaining and occasionally wild 2-1 defeat at the Vicente Calderón sealed victory over two legs. Atlético Madrid will again wonder what might have been had they played with the same fearlessness at the Bernabéu. But then, elite football is all about seizing moments and Real now have the chance to become the first team to retain the Champions League incarnation of this competition.
It is a fine achievement its own right, not least when at times these Merengues can look like an Eton Mess of a team, as they did in the opening 20 minutes here. Atlético had begun with genuine fury, swarming through the back of midfield in numbers in an early surge that bought two goals and dragged the tie back to 3-2 on aggregate.
Atlético Madrid 2-1 Real Madrid (agg 2-4): Champions League semi-final – as it happened
Minute-by-minute report: Real Madrid will play Juventus in the final, though they had to withstand a spirited attempt at a spectacular comeback. Scott Murray was watching.
Somehow Real always seemed to have that familiar hex, another gear, the neighbourly upper hand. At times they looked untroubled in the second half as Luka Modric and Toni Kroos began to set the tempo. Plus for all the glitz there is a hard, tempered steel to this team of serial winners, who stood firm where others might have been blown away by the early onslaught inside this soon-to-be-razed stadium.
This match was a kind of pre-farewell to the Vicente Calderón, Atlético's home of the past half-century and a stadium of weird craning angles, excitingly open to the suburban skyline. Before kick-off the streets outside were surging with a red and white sea of chanting, horn-parping fans. Inside there was a great crackle of electricity as the teams emerged on to that open square of scrubby looking lime green. There is one more Madrid derby to come here but this was the last real gala occasional, a mild, balmy uproarious New Orleans-style street funeral to a fond 50 years.
It was also supposed to be a semi-dead rubber, Cristiano Ronaldo having taken his axe to this tie in the first leg, producing a brilliantly minimal combination-punch of a hat-trick either side of half-time to seal a 3-0 head start . And yet from the start there was a sense of something slightly chaotic in the air, of a genuine desperation to get back among it.
arted Isco behind his two strikers, with Danilo in for the injured Dani Carvajal. Diego Simeone began with Fernando Torres up front alongside Antoine Griezmann, acknowledgement of the need to chase this game from the first whistle. As Madrid kicked off, decked out in appropriately villainous all-black for the occasion, Simeone was out pacing his rectangle in weird plastic overcoat and skinny, urging his team forward. Sergio Ramos was upended and then Luka Modric bundled over by Gabi. Torres drew a sharp save at the near post from Keylor Navas. At the other end Jan Oblak plunged spectacularly to claw away a header from Casemiro.
It was raw, ragged, guttural stuff, Atlético pressing hard for an early goal that always felt like it was coming and duly arrived in the 12th minute, Saúl Ňíguez hanging above the Real defence and bulleting a header home from a right wing corner. The stadium, which was already in a state of eruption, erupted a little further as Koke gestured to the main stand for more noise, more heart.
Then: sensation. With red and white shirts swarming through the Real defence in alarming numbers Torres fell over the outstretched leg of Raphaël Varane inside the box. The referee, Cuneyt Cakir, pointed to the spot. After an unseemly hush Griezmann tucked it away with just enough power to beat Navas's clawing hand. With 16 minutes gone this semi‑final was there for the taking suddenly, all momentum with an Atlético team who were not just resuscitated at 2-3 down but zinging with life.
  Isco scores for Real Madrid, who were 2-0 down to Atlético after 16 minutes. Photograph: Gerard Julien/AFP/Getty Images
No doubt with a killer away goal in mind, Real had been being sucked into playing the counterpuncher's game, committing men forward then finding themselves hit with swift raids on the break. Steadily they settled, Modric seeing more of the ball and keeping possession cutely, dragging his team back on to an even keel.
Advertisement
Even when they are staggering around on the ropes, Real are of course horribly dangerous, always with a knockout punch in that right hand.
Pressure began to grow at the other end as Atlético drew a breath. At which point Real scored a goal to silence the Calderón. It started from a Ronaldo throw-in and was made by some supreme footwork from Karim Benzema by the touchline, zigzagging past all three centre-backs in a tiny space and feeding back for Toni Kroos to shoot. Isco, lurking, poked in the rebound from Oblak's save.
For all their energy, as the half-time whistle blew Atlético were right back where they started against these most slippery of uptown neighbours, once again needing to score three goals to reach the final.
The second half began with an intake of breath, Real taking more possession and the noise from the home crowd more a defiant, departing chorus. Navas produced a wonderful double save on 66 minutes. Both teams might have scored again as the game opened. But over two legs this was at every stage Real's tie and they will travel to Cardiff now with en eye on making further history.