EXCLUSIVE: INTERVIEW WITH LYDIA FORSON'S MOTHER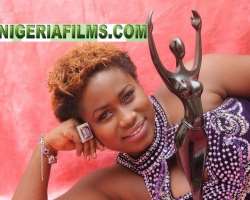 Madam Janet Forson is Ghana top actress, LydiaForson's mother.
The trained seamstress who is now preoccupied with praying forher 3 children and taking care of her husband is one of the happiest mothers onearth now. At about 60 years of age, Madam Forson is full of thanks to Gods for giving her a child like Lydia who has emerged one of the 3 best actress in Africa a la Africa Movie AcademyAwards (AMAA) which recently held in Yenagoa, Bayelsa State.
The dark complexioned woman bore 5 children and lost 2 of them to sicknesses. In this short interview with Nollywoodgists.com she spoke on the mystery that surrounded Lydia's birth and how it was prophesied that she would be a star.
What is yourcomment on your daughter's rise in the movie industry?
(Laughs) my daughter's rise in the movie industry is a gift from God to me. Immediately after I gave birth to her armed robbers stormed the hospital and took away everything I brought to the hospital including her placenta. It was a popular story around town then. While I was thinking about the whole incident, someone came to me and said ''Mummy said this girl is going to be a star in the future'', It was a prophesy.
I can't believe whatis happening to her and I know it is the doing of the lord.
Were there traits of an actress in Lydia while shewas young?
At the age of 5 she was behaving like a boy. What ever object she picked up she would use it to mimic a microphone as if she were singing and cracking jokes to an imaginary audience. Everyone said she would be a movie star. Lydia is a special gift from God to me. She eventually grew up,
Did you have problems withon the choice of her career?
No. I did not have any problems with her choice ofcareer because I knew when she was 5 years old that she would take to acting.
How did her father who is a Reverend take herdecision to become an actress?
Her father did not have any problem with her. You know there are various professions in the Holy Bible. God has deposited in her the gift of acting.
How do you feel people hail you as Lydia's mum?
I feel proud. She is a blessing to me.
By TAIWO OBATUSIN EXCLUSIVE for www.nollywoodgists.com