NIGERIANS IN THE CHAMPIONS LEAGUE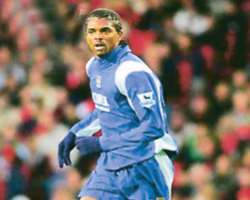 Kanu Nwankwo entered the record of players who scored Champions League goals as teenager when as Ajax player he scored against Hajduk Split in the quarterfinals of the 1995 edition of the competition. The Nigerian captain won the title with Ajax in the same year, and went on to play many other Champions League matches for Inter Milan and Arsenal.
Ajibade Babalade
In 1998, former Super Eagles defender, Ajibade Babalade, moved to AK Sturm Graz of Austria, at a time when the club played in the Champions League for the first time. Playing in Group C, the team played against Real Madrid, Inter Milan and Sparta Moscow. Babalade recalled that the match against Real Madrid was a no contest for the Australian club. In the first leg, Real recorded its biggest away win in the Champions League.
'It was a mis-match. Real Madrid was the better side on both legs. They beat us 5-1 in Australia and we lost 6-1 in the second leg. The atmosphere in Santiago Bernebeu was great for the occasion. Graz has a small stadium of about 15,000 seats but in Madrid, it was something else. After the loss, I took time to have a good look at the Stadium, the fans' attitude towards the club and the dressing room.'
Finidi George
Playing alongside compatriot Nwankwo Kanu at Ajax, Finidi George won the Champions League in 1995. While Kanu played the last 36 minutes of the final against AC Milan, Finidi played the whole duration of the match. Frank Ryjkaard scored the only goal of the match in the 85th minute.
Obafemi Martins
In his four year stay at Inter Milan, Obafemi Martins enjoyed memorable appearances in the Champions League. He did not become a regular member of the first-team until the 2002-03 season. In the same season, he played his first UEFA Champions League match as a substitute against Newcastle United, at St. James' Park. He also scored his first Champions League goal in a match against Bayer 04 Leverkusen to secure Inter's place in the quarterfinals. He also scored in the semifinal match against A.C. Milan although Inter lost out on away goal rule. Now with Wolfsburg, Martins played in the group stage of the Champions League this season against CSKA Moscow, Manchester United and Besiksta.
Daniel Amokachi
After joining Club Brugge of Belgium from Ranchers Bees, Daniel Amokachi competed in the new format of the UEFA Champions League, and became the first player to score in the competition, after his goal secured a 1-0 win in the opening match in the group stage against CSKA Moscow.