INVESTING IN LPG BOTTLING PLANT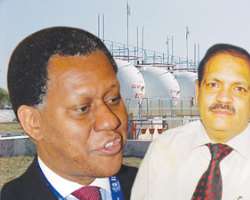 LPG bottling plant
For big investors, the downstream sub-sector of the oil industry continues to offer attractive investment prospects.
With huge gas reserves of 185 trillion cubic feet and government's strong commitment to developing the gas industry through the Gas Master Plan, there are a lot of emerging opportunities for investors in the sub- sector.
One of such areas of investment is in Liquefied Petroleum Gas bottling plant.
The LPG industry is already experiencing a boom with more depots springing up, which will make supply of LPG to the filling plants easier.
Operators of refilling plants stand between the LPG depot operators and the retailers and they are the ones who refill empty cylinders of LPG with the product.
Besides having their own cylinders and filling them, they also take and refill cylinders from retailers of LPG.
The first stage of setting up an LPG bottling plant is almost similar to conditions surrounding setting up of a petrol filling station. You will need to acquire a land and also get all the necessary approvals from the local government, the state government and the Fire Service. You also need to do the Environmental Impact Assessment.
Land is a crucial determinant of the eventual cost of an LPG plant. Depending on your location, the cost of land can increase or decrease your overall cost.
According to the Deputy Chairman, LPG Group, Lagos Chamber of Commerce and Industry, Mr. Bambo Ademiluyi, 'For instance, building an LPG plant in Abeokuta will be cheaper than in Abuja, where the cost of land is 10 times that of Abeokuta.'
After acquiring land and getting approval from local and state government agencies, you will then proceed to the Department of Petroleum Resources for regulatory approval to construct and operate an LPG plant.
Documents to be submitted to the DPR include; detailed approved plan drawings showing the existing or proposed buildings on the site and the relative distances to the roadways and adjoining properties. Piping and instrumentation diagram of the gas filling plant and sectional design drawings of the storage tanks should also be submitted.
They also include a certificate signed by the Chief Federal/State Fire Officer or an officer authorised by him that he is satisfied with the proposed arrangements for the prevention of fire. The investor will also submit a letter from the appropriate Town Planning Authority, authorising siting of the LPG filling plant and the proposed arrangements for the prevention of fire.
You also need to show DPR evidence that the company is duly incorporated by the Federal Ministry of Trade to deal in petroleum products in addition to a current three-year tax clearance certificate, codes, standards and specifications adopted in the design of the plant.
An operator in the LPG business, Mr.Sina Odugbemi, says that constructing an LPG bottling plant will require between N30m to N100m depending on the capacity of the plant.
According to him, the cost will include acquiring tanks and other ancillary facilities at the depot.
Ademiluyi also explains that a mini plant that will have five tonnes' storage capacity and about two pumps will cost about N10m excluding the land.
'You will have to buy a pump, tanks and other materials, so you will need up to N10m for civil and mechanical works.
'For a standard plant with 20 tonnes storage and other facilities, if you don't have up to N25m, don't start. People were cutting corner in the past but now DPR will not allow the rubbish that people used to do in the past, thus it is asking people with plants built years back and that are below standard to upgrade them,' he stresses.
Ademiluyi says that DPR's plan is to ensure that all plants are up to specification.
He adds, 'The most desirable is to have two tanks and an LPG truck. If you want to really do it up to standard, you will need to have about N45m and I am talking of fairly used tanks, pressure tested.'
According to him, LPG supply will no longer pose a challenge to the plants because it is now very robust.
'Supply is a problem that has been resolved and the challenge is deepening the market through more cylinders and alternative uses.
The supply situation has come to a point where we can say we have achieved 80 per cent, ' he adds.
Thus, for an investor who wants to invest in a growing business, constructing an LPG plant is a wise choice.
Comments :