Militant Leader, Boys Return To Delta Creeks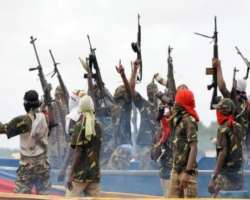 WARRI, DELTA, May 19, (THEWILL) - THEWILL investigation into the ongoing federal government amnesty programme in Delta State has revealed that a militant leader in Delta State, General John Togo, who allegedly fled with over two hundred and sixty million naira of amnesty funds that was supposed to have been split amongst repentant militants in his camp has returned to the creeks in Delta State, accompanied by a few militants operating in that area.
THEWILL checks revealed that General Togo at the inception of the amnesty programme was given the privilege to register repentant militants in his camp and thereafter bank accounts were opened in the names with an arrangement that their monthly salaries will be paid directly into the accounts by the central government through the amnesty committee.
THEWILL further gathered that before the payments were effected, General Togo approached the amnesty committee and the bank where the accounts were domiciled and cajoled them into paying the entire funds into a single account controlled by him and promised to disburse to his fighters accordingly.
One of the militants affected by Togo's action told THEWILL that as soon as the funds hit Togo's bank account he became hostile to them, threatening to kill them if they confronted him for their salaries.
Having taken control of the funds, John Togo fled a few days later to the creeks in the Bomadi council area of the state threatening the Delta State government with more hostilities.
Reports say he told state authorities that he never accepted the amnesty deal instead, what he did was let go of some obsolete weapons to benefit from the amnesty funds.
Some aggrieved militants are currently on John Togo's trail to get their pound of flesh in what another militant hinted may throw the Delta creek side communities into a war zone.
Attempts to reach the Secretary to the State Government, Ifeanyi Okowa for comments were unsuccessful.