Burnley peg back Chelsea thanks to Robbie Brady's superb free-kick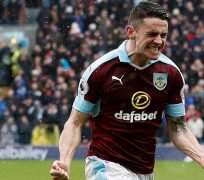 Everything has been going so well for Chelsea that, having started their latest assignment so impressively, it came almost as a jolt that they could not build on their early lead and increase the near-inevitability that it will not be long before the first publicity-ravenous bookmakers announce they are paying out early on the championship.
For that, a lot of credit has to go the way of a Burnley side who gave the impression at times they genuinely believed they could register a sixth successive top-division home win for the first time since Harry Potts's team were defending their title in the 1960-61 season.
Only three teams in the Premier League have a superior home record than Burnley this season. Chelsea happen to be one while Tottenham and Arsenal, second and third, respectively, are the others. In those circumstances, it still amounts to a useful point for the leaders, particularly when the game was played in the kind of conditions – driving sleet, biting temperatures, a long way from home – when champions have to show their durability.
Antonio Conte's men are now 10 points clear of Spurs and the first chant of "We're going to win the league" could be heard from the away end within minutes of Pedro giving them a seventh-minute lead. Their next run of games comprise Swansea, West Ham, Watford, Stoke and Crystal Palace – five teams in 10th position or below – and unless something dramatic happens they should have everything virtually sewn up by the time they meet the two Manchester clubs in April.
All the same, there will be a tinge of disappointment about this result bearing in mind the amount of second-half possession they had and the way the game had been progressing before Robbie Brady scored a peach of a free-kick. Burnley can also reflect on chances to win the match but there cannot have been many opponents at Turf Moor this season who have moved the ball so quickly and, not that it should bother them unduly, Chelsea demonstrated in the process how absurd it is for their former manager José Mourinho to depict them as a defensive team.
What Chelsea do better than anyone is break at speed on the counterattack, breaking from the back to catch their opponents short of numbers. That, however, should not be confused as conservatism. The opening goal was the case in point, originating from the left of Chelsea's penalty area and featuring a slick exchange of passes involving Gary Cahill, Marcos Alonso and Diego Costa before Victor Moses was suddenly in possession of the ball and running at the Burnley defence. Pedro was sprinting through the middle and it was a perfectly weighted first touch to control the pass and give himself the angle to slide the ball past Tom Heaton.
Pedro's quick running and directness were a prominent feature, while Eden Hazard and Diego Costa caused plenty of problems of their own. Yet it was a fine response from Burnley once Nemanja Matic's foul on Joey Barton gave Brady the chance to show off his dead-ball expertise. Chelsea had four players in their defensive wall – Moses, Alonso, Costa and Matic – but Brady's strike went round them all and had just the right amount of curl to bend into the top corner of Thibaut Courtois's net.
Burnley v Chelsea: Premier League – as it happened
Chelsea started superbly, taking an early lead, but Burnley fought back equally superbly to earn a deserved point; Chelsea lead the table by 10 points, while Burnley move up one spot to 12th
Read more
For the remainder of the first half, Burnley matched their opponents and they had an outstanding chance to take the lead when Matt Lowton advanced from his right-back position, finding a way behind the away team's defence, only for his shot to come back off Courtois's legs. Chelsea, true to form, immediately broke upfield to create a chance of their own but Conte's men were not alone in knowing the benefits of quick, incisive counterattacking and, early in the second half, Andre Gray really ought to have done better with his shot after a quick breakaway had led to David Luiz failing to cut out the through ball from Ashley Barnes.
After that, Burnley had to withstand some concerted pressure and they can take great satisfaction from the fact that, for all their opponents' possession, there were only sporadic moments when Heaton's goal was seriously threatened.
Sean Dyche's team now have 29 points at home and if they continue to play with this vigour they will surely beat the 38-point record, set by Ipswich Town and Charlton Athletic in the 2000-01 season, for a promoted side over the course of a 38-game Premier League campaign. Chelsea, meanwhile, can look ahead to greater prizes.