WHY OGBULAFOR HANDED OVER SECRETLY —PDP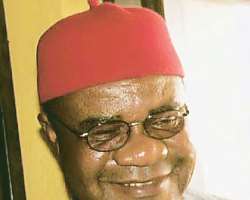 Chief Vincent Ogbulafor
The leadership of the Peoples Democratic Party on Wednesday defended the secret handing over carried out by its out-going national chairman, Mr. Vincent Ogbulafor.
The party said that since members of the National Working Committee of the party were still in place, there was no reason for him to make the handing over public.
Speaking at a short media briefing at the party's headquarters in Abuja, the PDP National Publicity Secretary, Prof. Rufai Alkali, also refused to state how much Ogbulafor left in the party's purse.
Also at the briefing were some members of the NWC, which included the Deputy National Secretary, Dr. Babayo Shehu; National Financial Secretary, Alhaji Tukur Mani; National Treasurer, William Makinde; National Auditor, Mr. Samuel Ortom; and National Youth Leader, Chief Muyiwa Collins.
However, the party's Deputy National Chairman, Dr. Haliru Bello, whom the party claimed Ogbulafor handed over to, was absent.
The NWC members met on Monday and took a decision that Ogbulafor must hand over the affairs of the party, in spite of the one-month notice he gave in his resignation letter on Thursday.
They reiterated their decision when he briefly showed up at their meeting on Tuesday.
Alkali told journalists that the NWC members actually met on Monday and discussed Ogbulafor's resignation 'and matters arising from it.
'Ogbulafor met us on Tuesday and it (the Tuesday meeting) was meant to be a kind of valedictory meeting with him and for him to later do a formal handing over.
'He has done that to the deputy national chairman. His letter of resignation to the National Executive Committee will be handed over to the meeting at the right time.'
Speaking on the same issue, Shehu said the constitution of the party did not insist that the chairman must hand over in public.
'What the constitution says is that the officer must hand over in whatever form,' he added.
However, Article 13.5, which deals with the issue of resignation or removal from office, says the officer must hand over to the national secretary.
The article reads, 'If a national officer of the party is removed or resigns from office, he or she shall immediately hand over to the national secretary, all records, files and other properties of the party in his or her possession; and in the case of the national secretary, he or she shall hand over to the national chairman.
'This provision shall apply mutatis mutandis to all other levels of the party.'
Adding his voice to the issue, Ortom said, 'The issue of how much is left in the purse is not the issue because it is still the same NWC.
'Those who want to know anything about the finances of the party should come to us. The officers are still there.'