Didier Drogba the inspiration behind my success at Chelsea: Diego Costa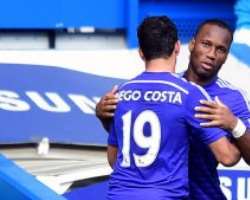 Diego Costa has revealed that Didier Drogba is the inspiration behind his success at Chelsea. Despite a poor second season, Costa is on course to win his second Premier League title in three years at Stamford Bridge and top the goalscoring charts.
Costa has scored 51 goals in 103 appearances since joining Chelsea from Atletico Madrid in 2014 and has credited Drogba with having a major impact on his good form.
Drogba was part of the squad that won the Premier League title during Costa's first season at Stamford Bridge, but the Spain international was a big fan of the Ivorian long before playing with him.
"I have always seen Drogba as the example to follow in terms of a centre-forward," said Costa. "He was strong and scored loads of goals and he was a quality player.
"Just watching him train helped me. Just seeing him, I was amazed. This is because – and I'm not making this up at all – I specifically used to watch Chelsea [before he joined], who are obviously a big club, just to see Drogba.
"He was famous and everyone would talk about him. I even liked watching him when he played for the Ivory Coast.
"When I arrived here, he was never cold with me, quite the opposite. I wasn't exactly scared of him, but he was such a legend who had helped the club grow and been a part of all that."
Drogba won 12 major trophies at Chelsea and was voted the club's greatest player by the fans in 2012. Speaking to Chelsea TV, Costa added: "He made history here, so could have been dismissive of me but, no, he was always fantastic with me.
"I will always have fond memories of him and whenever I see him, I thank him. It's not always easy for someone with so much history to be in that position.
"I was playing well, scoring goals, and he would support and motivate me, whereas others might not have done the same. I take my hat off to him."
Costa has had an up and down relationship with the Chelsea fans, who idolised him during his first season but turned on him, and other members of the squad, when things went wrong under former manager Jose Mourinho.
There was the potential for more problems when Costa was dropped following a row with head coach Antonio Conte over an injury and interest from China, but the Stamford Bridge faithful have largely stuck by the 28 year-old, even though he could leave at the end of the season .
"Not just the fans at the ground, but the other Chelsea supporters and my team-mates have shown that they care about me and I feel the same about them, too," said Costa. "If I go on to the pitch, do things well and the fans love me and my team-mates, too, we take on that energy which can change a game.
"I don't know what it is exactly, but when the fans get behind you it gives you a boost and can change a game completely. When a game is not going your way, you need them because it gives you an extra push."
Costa has been caught up in a number of controversial incidents with opponents, officials and his managers during his time in England, but claims it is his desire to win that sometimes pushes him over the edge.
"Perhaps you could say it comes from when I used to play in the streets [back in Brazil], playing alongside my brother and cousins," said Costa. "I always wanted to win. Everyone has a bit of that in them, but I have even more of a will to win.
"Sometimes I might go overboard, whereas there are others who, yes, they want to win, but if they don't it's no big deal for them. I'm different. I want to win and always have done since I was small. I don't know if it's in my blood or just my personality."