Government Agency Grills Yerima Over Child Bride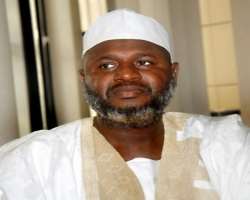 PHOTO: SENATOR AHMED SANI YERIMA.
San Francisco, May 18, (THEWILL) – Ahmed Sani Yerima, the former governor of Zamfara State and a serving senator was a few hours ago grilled by operatives of the National Agency for Prohibition of Traffic in Persons and other Related Matters (NAPTIP) over his alleged marriage to an Egyptian 13-year-old girl in Abuja.
Mr. Yerima, had on several occasions refused to honour the invitation of both NAPTIP and the National Human Rights Commission of Nigeria (NHRCN) insisting that he acted in accordance to the Islamic laws.
Yerima has been highly criticized for marrying two minors; one in 2006 which he allegedly divorced for the 13 year-old Egyptian girl he married recently after paying over $100, 000 as bride price.
The controversial governor was later released on self-recognition after spending hours at the agency. He is to report back to the Agency on June 15, 2010.
The man who analysts have called a pedophile told reporters outside the agency that he has not broken any Islamic laws arguing that was Nigerian laws does not count on the matter.