Can any EPL club stop Chelsea?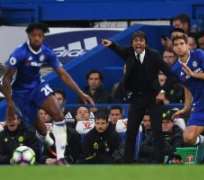 The first half of the 2016-17 English Premier League season is almost in the rearview, and the field of title contenders — which, at one time, included seemingly half the league  — has finally begun to winnow. A handful of clubs remain in the mix, but there is one clear favorite.
Chelsea sits atop the table with 46 points, six more than second-place Liverpool. That may seem like a small gap, but you have to consider how the Blues forged that margin. After a poor start to the season that climaxed with an embarrassing 3-0 loss to Arsenal in late September, manager Antonio Conte switched his tactics , and the turnaround has been remarkable. Chelsea has won 12 consecutive Premier League matches, only two off the EPL record, and outscored opponents by a margin of 29-2.
The Blues are rolling, and if any club is going to halt their progress it needs to do so fast. Otherwise, Chelsea could build up a lead and run away with the crown. And even if a team does manage to find some cracks in Chelsea's armor, Conte's superior managerial acumen could see it through to the title regardless.
Chelsea is a team with obvious strengths. It's biggest, in my mind, is the steel in the center of the pitch. N'Golo Kante may not be the "best" player in the world, but after seeing what he did for Leicester and how he's helped transformed Chelsea, I have no doubt he's the most valuable. The wingbacks in Conte's 3-4-3 provide versatility on offense and defense. The triumvirate of Diego Costa, Eden Hazard and Pedro at the top of the spear creates a fluid unpredictable attack. Defensive solidarity and long, direct balls from the back allow the Blues to counter-attack with as few touches as possible.
Opponents can try to slow down or deal blows to Chelsea's strengths, but that only serves to help you lose 1-0 instead of 3-0. If you want to beat Chelsea, you need to find a weakness to exploit.
The problem for opponents is Chelsea has no obvious weakness. Most winning streaks in world soccer, and sports in general, only run as long as opponents are ignorant to what the manager has tapped into to bring the best out of the players. One team pulls off a win, then that serves as a blueprint for other teams to win. So far this season, no one has figured out the game Conte is playing. More troubling for fans of clubs vying to topple Chelsea for the title is that dating back even before he got to Chelsea, no one has ever figured out Conte.
Conte's three seasons as manager of Juventus was marked by title after title. Three consecutive to be exact. His first, in 2011-12, came along with a perfect record in the Italian league. While Conte was at Juve, there wasn't at Italian team that could touch the Old Lady. His success continued as manager of the Italian national team. He went unbeaten in Euro qualifiers, and took an often overlooked Azzurri side to the quarterfinals, where they lost to Germany in penalties. Conte's near infallibility is nothing new. It's been happening for years.
One reason Conte is so hard to figure out is because he never sticks to conventional wisdom. He made his bones as a manager at Bari running a 4-2-4, something you almost never see at the top levels of soccer. And he hasn't been afraid to experiment with this Chelsea squad. He made the radical shift to the three-man defense after a difficult start. He moved Victor Moses to wingback, a move that completely changed the dynamic of the side.
And he isn't afraid to shake things up on a match-by-match basis. With Costa suspended against Bournemouth earlier this week, Conte deployed Hazard at striker instead of his normal position on the flank. The result was something Bounemouth never expected. Like most, they probably expected a like-for-like switch with Michy Batshuayi. The Hazard move likely threw a chuck of Bournemouth's gameplan out the window. On top of simply putting the Cherries off their game, Hazard also had one of his best outings in years. With one move, Conte dealt a blow to his opponents gameplan and put one of his own players in an outstanding position to succeed.
You can go back through every Chelsea game over the streak and find some small move that hurt its opponent but helped the Blues. He prepares and plans for each game individually, a far cry from a manager such as Arsene Wenger or even Pep Guardiola, who each have systems they instill in their players and expect them to be able to run in their sleep. Bournemouth's Jack Wilshere, currently on loan from Arsenal, praised Conte's gameplanning following the Cherries' loss to Chelsea,
"I've been here a few times with Arsenal and we've only won once but they're more ruthless," he said . "They change their game planning depending on who they are playing. I think that's the sign of a top team."
Therein lies the rub for all teams playing catchup with Chelsea. As soon as you figure out how to beat Conte, he'll change the way he plays. He cycled through formation after formation at Juventus to get the best team possible, and he'll do the same in London. Forget about this season. With Conte's record, opposing fans should be worried that their destined to spend the next few seasons as cannon fodder to Conte and a budding Chelsea dynasty.
Cy Brown writes about soccer and other stuff for Sports on Earth. Follow him on Twitter  @CEPBrown .