5 reasons Arsenal fans are angry about after 2-1 defeat by Manchester City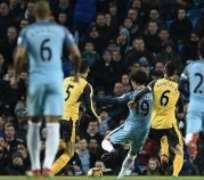 Oh, Arsenal.
Just when everything seems to be ticking along nicely, The Gunners have developed a remarkable habit of doing what can only be described as 'an Arsenal'. A case in point: Arsene Wenger's 2016/17 squad looking like title challengers, getting everyone's hopes up… before losing two tough away games in a row and sending their own supporters into meltdown.
The 2-1 defeat at Everton could have been written off as a one-off aberration – but to then to follow that up with a 2-1 loss at Man City has got Gooners everywhere raging.
Here's why… complete with what Arsenal fans are thinking right now: 1. How poor Man City were in the first half
(Photo: Clive Brunskill)
"Are you kidding me?
"ARE YOU FREAKIN' KIDDING ME?
"City were bloody awful in that first half. We were all over them. We had them. 1-0 up and coasting; no Aguero, no Fernandinho, no Kompany, no Gundogan… we were going to wipe the floor with them.
"What the hell happened? How did we go from dominant force to laughing stock in the space of 15 minutes?
"Thank you, Arsene, for presumably delivering the worst half-time team talk in the history of football." 2. Mesut Ozil
(Photo: Michael Regan)
"Move towards the ball! Close down an opponent!
"DO SOMETHING THAT MIGHT ACTUALLY SEE YOU BREAK INTO A SWEAT!" 3. Being in fourth
(Photo: Michael Regan)
"Of course this defeat sees us slide down into fourth place.
"Of course we're not only going to blow the title, but end up scraping into the Champions League again.
"Of course we'll end up celebrating the fact that we've finished in the top four at the expense of Spurs, despite the fact that we've once again chucked away a title bid.
"God, why do I bother?" 4. Having to listen to everyone bang on about the 'same old Arsenal' stuff… again
(Photo: Getty Images)
"It's fine when we dig out our own side.
"It's fine when we get frustrated at our team going from world beaters to also-rans, simply because an opposition team have put them under a little bit of pressure during an away game.
"It's fine when we get angry at our manager for cultivating a squad mentality that sees them fold when it actually matters.
"But when fans of other clubs do it? YOU GO TO HELL!" 5. The identity of the title favourites
"Anyone but Chelsea. Anyone but Diego Costa.
"Seriously, ANYONE. City, Liverpool, United…any of them would be preferable to that mob winning it again.
*pause*
"It's going to be them, isn't it?"
Additional report: Pep Guardiola will be a relieved man after his side struggled to find their best form in the first half, but they were clinical in the second period to see off the Gunners. Arsene Wenger on the other hand will be furious that his team allowed another lead to slip from their grasp.
17:54
The contest certainly was a game of two halves as Arsenal capitulated in the second period after playing so well in the first. Manchester City were rampant after the break and goals from Leroy Sane and Raheem Sterling have fired them to a vital three points this evening.