GOLDEN BALL BETWEEN MESSI, RONALDO – ELIA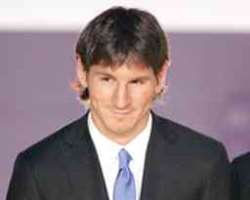 Lionel Messi
In the run up to the FIFA World Cup, many countries unearth an exciting young gem. Supporters of the Netherlands think they may have found a major talent of their own heading into South Africa 2010.
Eljero Elia began his career at ADO Den Haag before moving to Twente to showcase his skills. A transfer to the Bundesliga really kick-started his career. Signing for Hamburg in the summer of 2009, he made his debut for the Dutch national team within two months.
He is expected to play a key role in the Oranje's campaign to win the FIFA World Cup. While he may not make the first team, as a versatile winger and forward he'll provide strong competition for the likes of Arjen Robben and Wesley Sneijder. FIFA.com sat down with Elia to discuss the Netherlands group games against Denmark, Japan and Cameroon and the players he think will illuminate South Africa 2010.
The Netherlands are the favourites in Group E. Tell us about your team and their strengths.
We have a very strong team, a lot of big players. I've been in the squad for about six months now and I want to stay in the team. We fight for each other now. It's not always been like that in previous years.
You are playing Denmark. What are their strengths and who will you have to watch out for?
The Danish tactics are very strong and there's (Jesper) Gronkjaer and (Dennis) Rommedahl, very fast players on the wings we have to watch out.
What is going to make the difference in the game against Denmark?
I think the tactics will be important. But also we have great players who can change a game in one second. We have to build on that, we have to play football. The best team will win.
What do you know about the Japanese and the way they play football?
We played against Japan eight months ago and in the first half, they played as well as us and everybody was in shock saying 'What's wrong?' But in the second half we changed the game.
You're going to play Cameroon as well. Tell us your impression of the Indomitable Lions.
I watched the Africa Cup of Nations in Angola and they had some great battles. They play very hard and put in some tough tackles. We have to watch out for the tackles and we have to play our own game.
The adidas Golden Ball is given to the best player at the FIFA World Cup. Which players do you think might be getting it and why?
(Lionel) Messi, because he has everything. He's great, he can score goals, he plays well for Barcelona and maybe he's going to play well in the FIFA World Cup. And also (Cristiano) Ronaldo. They are players who are complete, they can do everything in a game, they can change a game and they're two of the players that can take the Golden Ball from adidas.