Arsenal celebrate 20 years of Arsene Wenger with controversial win at Burnley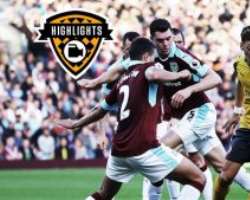 ARSENAL scored with virtually the last touch of the game to beat Burnley 1-0 on Sunday and extend their winning run in the English Premier League to five games.
After a short corner in the second minute of injury time, Theo Walcott flicked on a cross and Alex Oxlade-Chamberlain appeared to turn the ball in at the far post – via the unintentional hand of teammate Laurent Koscielny just in front of him.
Koscielny told Sky Sports: "I don't know. I tried to smash the ball with my right foot and after I couldn't see where the ball was going.
"I don't know if I touched the ball with my hand but the ref gave us the goal and we need to respect the decision.
"It was a hard game. We pushed on the pitch to win this game, and it arrived at the end."
"It's hit both of us in the end,'' Oxlade-Chamberlain said, with a grin, "And it's squeezed in.''
It was a memorable way for Arsene Wenger to mark the 20th anniversary since he officially took charge of Arsenal. His team are in third place, two points behind leaders Manchester City.
"I have not seen the replay of our goal and I did not see from the bench it go in,'' Wenger said. "Maybe we were a bit lucky there then (for possible handball), yes?''
Arsenal's French defender Laurent Koscielny (L) deflects the ball. Source: AFP
Despite being on the back foot for most of the game and defending deeply, Burnley almost took the lead when Michael Keane headed a corner against the crossbar in the 75th minute.
On the goal, Keane said: "Yeah obviously, I've not seen it back but I'm hearing it was offside and a handball."
His boss, Sean Dyche, told Sky Sports: "You have to question the added time, the corner and whether it should have come in, the handball and question whether we should have dealt with it.
"It's a poor way to end a game. We are disappointed in that but encouraged by the performance."
Burnley protest as Arsenal celebrate. Source: Getty Images
Thierry Henry, one of the most famous perpetrators of a handball goal in the lead-up to the 2010 World Cup, told Sky Sports: "If his hand wasn't there the ball would have gone out.
"If he [the referee] gave a handball I would have understood.
"But I don't think Koscielny meant to do that. That's the main thing."
But his former Arsenal colleague Emmanuel Petit has said: "Laurent Koscielny's goal should not have been allowed. There was a huge infringement with his hand."
Alexis Sanchez shot wide with Arsenal's best two chances before the visitors' scrambled winner.
"It was a difficult game,'' Wenger said. "We had to not concede and be patient against a team who are well-organised with full spirit.''
Laurent Koscielny of Arsenal (L) celebrates with his colleagues. Source: Getty Images
He added:
"We made many technical mistakes today in the first half. We wanted to win today, we knew it would be a big week for us, and maybe we played with the hand break, without much freedom, not much combinations to go in behind.
"Is it down to us being below our level or Burnley defending well? I think a bit of both. Overall we lacked a bit of sharpness, our legs were a bit heavy today, and that was a game we could have won 1-0 or lost 1-0."