Antonio Conte in deep trouble at Chelsea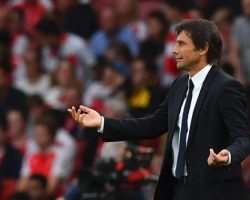 On Saturday, for the first time since he took over at Chelsea , there was a sense of anger about Antonio Conte. It wasn't so much what he said in his post-match press-conference after the 3-0 humbling at Arsenal as the way he said it, eyes flashing with barely suppressed fury. "I have to solve the situation," he said. "The situation is that, every game, we concede minimum three goals." He knows these are critical times.
The details may not be accurate, but the spirit is. Chelsea may have been unfortunate to let in two in the draw away at Swansea City, but since then they have leaked two against Liverpool and three against Arsenal in the league and two against Leicester in the EFL Cup.
Since John Terry injured his ankle—he is not expected to be fit for Saturday's game against Hull City —Chelsea's defence has fallen apart.
The temptation would be to blame David Luiz, who arrived to widespread surprise on the final day of the transfer window. The immediate implication was that he was not Conte's man. He had wanted an experienced and mobile central defender, and as other attempted signings fell through, the club ended up going for the devil they knew.
That hints at wider issues with recruitment, but Luiz hasn't been the most culpable figure in the past three games.
Frank Augstein/Associated Press
Branislav Ivanovic has lumbered about as he did in the early weeks of last season—at 32, he is seemingly too old and slow to operate at full-back.
Without Terry, Cahill has seemed diminished. Confidence has crumbled to the point that against Leicester in the League Cup, every cross seemed to provoke panic. The first Leicester goal was absurd, as Chelsea's defence dealt with a simple ball into the box like astronauts grasping at wet soap in zero gravity. In his absence, Terry's importance has become shockingly clear.
That represents a major problem for Conte. When it seemed last season that Terry might not be offered a new contract, there was a logic to offloading him. He will turn 36 in December. He is, as the banner in the Matthew Harding Stand has it, a "captain, leader, legend." The process of cutting him loose when the time comes will be difficult.
And Terry, who was never quick, is not Conte's sort of defender. He likes his defenders to press high, which demands a degree of pace if his back line is not to be caught out by simple balls in behind it. Letting him go at the end of last season seemed a way for Conte to let somebody else take responsibility for the act of severing Terry from the club.
The problem is that Terry is by some distance Chelsea's best defender. He may be coming to the end of his career. He may be an old-fashioned sort of centre-back. But he is also the key foundation block to the whole side. Get rid of him and the rest collapses. But play him, and Conte has to play a sort of football with which he is not comfortable.
This is precisely the problem Andre Villas-Boas had five years ago: There was a disconnect between his ideas and the makeup of the squad.
Matt Dunham/Associated Press
Roman Abramovich casts a shadow over his managers.
Conte is finding much the same. Disconnects characterise Chelsea. How can their side look so old and stale when they've won the FA Youth Cup in five of the last seven years?
Perhaps the players being produced are somehow not suitable for the first team, in which case there needs to be a modification of approach within the academy. More likely, though, the problem is that managers dare not give youth its head because the pressure on them for results is so great. Conte is the 10th manager Chelsea have had since Roman Abramovich took over the club in 2003 (Jose Mourinho and Guus Hiddink having held the position twice).
Carlo Ancelotti spoke in his autobiography of how any poor result, even a freakish one in the middle of a good run, brought a visit from the owner demanding explanations. Youth development is necessarily a long-term strategy, and Chelsea as a club have a tendency to think in the short term.
That Terry remains so central is evidence of that. That he is getting old cannot have come as a shock, and yet there appears to be no contingency. Its true that Kurt Zouma may represent a long-term future, but one injury, no matter how serious, cannot be allowed to derail an entire club.
But the Terry issue is just one among many related concerns. This is a squad that seems to have been put together with a 4-3-3 or 4-2-3-1 in mind, one based around Mourinho's conception of football, full of dogged players who are capable of absorbing pressure and physically imposing themselves on opponents. There's nothing wrong with that—it won Chelsea the title the season before last—but it is not Conte's way of playing.
He has stuck so far to the template, but it seemed telling that, under pressure at 3-0 down on Saturday, he switched to a back three, the defensive shape he had used at Juventus . Having tried to adapt himself to the squad, perhaps now he will try to adapt the squad to him. At Siena, Conte tended to use a back four rather than a back three—he is flexible to that extent—but always with a high press, always with intensity.
Frank Augstein/Associated Press
Can Conte find a solution at Chelsea?
The attempts at a compromise haven't worked. Perhaps the most striking aspect of the games against Liverpool and Arsenal is how slack Chelsea have looked from the start.
"We didn't believe in what we were doing at the beginning and we were punished," Ivanovic said on Chelsea's website. "As a team we didn't answer anything the manager asked of us, we have to be honest with ourselves and put more attention on the small details. We have to be more focused and concentrated on the game."
That is an astonishing admission. Whether it's Conte's fault for not devising a plan his players were comfortable with or the players for not following instructions, a team that lacks faith in its tactics is doomed.
The question, then, is what the solution is. Perhaps the manager will be changed or perhaps the players, but the bigger problem is the structure that tried to put them together in the first place.