Chelsea vs. Arsenal will once again be decided in central midfield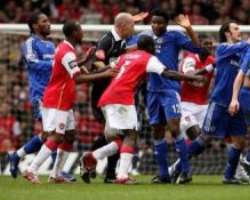 Over the past three years, and for a lot of the past decade, Chelsea have gone to Arsenal with a clear and repeatedly proven game plan. It focused on the centre of the pitch and ensured that their fixtures followed a long-term template. Chelsea, usually ordered by Jose Mourinho, would just congest the midfield to squeeze all space and patiently wait for Arsenal to crash against the rocks so they could break. It worked so well that it's been seven games since Arsene Wenger's side even scored against them in the league, a run that has resulted in five Chelsea wins. The centre so rarely held for Arsenal.
The wonder in this weekend's meeting, however, is not just whether a manager with so many of his own defined ideas like Antonio Conte would seek to replicate that approach. It is also about what Wenger will offer, both in response to the Italian and from his own range of options.
The Arsenal manager argued on Friday that "it looks like it's a new era" between the two clubs and if that is to be case, it is clearest when looking at the area that has most conditioned their recent history: central midfield. It sums it up, in fact, that Cesc Fabregas is not a key figure in the build-up.
The midfield, again, will decide whether this even is a new era or just a continuation of what we've seen before.
Wenger has more potential configurations for his midfield pair, but the key point is not just about variety of personnel; it's also about variety of types. He is no longer just constrained to destroyer-passer combinations. The signing of Granit Xhaka gives them the proper box-to-box midfielder they had been lacking for some time, something Aaron Ramsey could only approximate.
Could a player like that have been the solution to break so many congested midfields? Could his surges have opened things up in the past? Wenger seems to think so, having said a few weeks ago that Xhaka "has the engine to make an impact with his runs." The Swiss midfielder's net-busting, long-range shooting could certainly have been a game-breaker.
Sources say there is still a feeling on the Arsenal training ground, however, that those goals are someway covering the fact that Xhaka is still adjusting to the Premier League. There are occasions in training when it looks like he is still adapting, explaining why Wenger has so far been reluctant to start him, only for the 23-year-old to then come on and score a screamer in an all-action cameo.
It is for that reason, however, that Wenger is likelier to go with his more traditional pairing.
Granit Xhaka gives Arsenal an advantage they've rarely had vs. Chelsea but will he be trusted to start?
Last week, Wenger said that "[Santi] Cazorla and [Francis] Coquelin have 50 or 60 games together; that has a little impact sometimes on my decisions." Their familiarity could have a big impact on this match, especially since Chelsea are so clearly still adjusting to their new manager's ideals.
Conte is very innovative and pragmatic in his tactics, always prepared to try a range of different approaches to win any match, but they are generally predicated on a proactive approach. He insists on his team imposing their game and is never really willing to sit and wait in the way that has been so successful against Arsenal.
That sentiment is best illustrated by his midfield. Conte only wants energetic players who can go box to box all game and will thereby overwhelm the opposition. That is why he was so intent on signing Roma's Radja Nainggolan; it is an amusing curiosity that sources say the highly pursued N'Golo Kante was actually Conte's second choice after the Belgian.
N'Golo Kante's role has changed since joining Chelsea, but it'll be interesting to see how he reacts to Arsenal's challenge.
Kante almost personifies the team's adjustment, as he is in a slightly different role to when he was so rampaging at Leicester City and is a touch more tactically restricted. Conte has rotated the Frenchman and Nemanja Matic in the middle a bit as he tries to figure out the best balance, and it has occasionally left the defence exposed and the attacking lacking in cohesion. Chelsea still feel like they are missing an element to really bring things together, although that process may be helped by the defence successfully adapting to a higher line through David Luiz.
Either way, this battle in midfield will give this fixture something new that it hasn't had in a while, and something that could decide it.
Will Chelsea actually beat Arsenal in the same area but with a different way, as Kante and Matic overrun Wenger's side rather than seeking to undercut them? Or will the familiarity of the Arsenal midfield have the poise to calmly sidestep and work around Conte's industry so they can pick them off? Could we actually see a grand physical battle as Kante and Xhaka charge up against each other?
The form of Fabregas complicates this further. He might not suit Conte's starting XI ideals but he does suit a game that needs to be chased, bringing a calculation and insight otherwise lacking. His two goals in the 4-2 midweek win over Leicester City, as well as that sublime winning pass against Watford in the second game of the season, emphasise that.
Whatever happens, Wenger is right about one thing. This fixture is less predictable than at any point for years and that all emanates from midfield. The centre holds the key.