Musa and Caroline Danjuma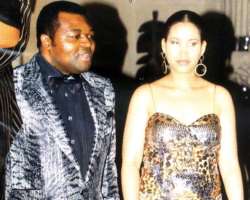 NOT many people know that lawyer turned multimillionaire businessman, Musa Danjuma, is the only sibling of former Chief of Defence Staff, Lt.-Gen. Theophilus Danjuma.
While his marriage to former Nollywood actress, Caroline Ekanem, cannot be said to have aided his social relevance, it aptly caused him to be one of the favourites of the paparazzi.
Not even the over two decades age gap that exists between the two deterred them from becoming man and wife.
Blessed with two sons, the duo are reputed for attending high status functions in company with each other.
At any of these occasions, they stand out on account of their apparel as well as Caroline's intimidating beauty.