AJOSE: WHEN THE GODSON JOINED THE GODFATHER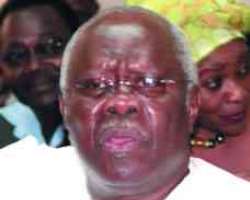 •Olabode George
For members and close watchers of the Lagos State chapter of the Peoples Democratic Party (PDP), recent events are far from pleasing to the ears.
First, it was the jailing of Olabode George whom many initially considered an 'untouchable', by Justice Joseph Oyewole of the Ikeja High Court over contract scams at the Nigerian Ports Authority (NPA).
This, no doubt, was a bitter pill for George and his followers in the PDP, as they never thought that the former PDP Deputy National Chairman (South) could end up in the gulag.
Repeated efforts to get the 'Lagos boy' out of Kirikiri through bail equally failed in Justice Oyewole's court, and George himself must still be wondering how he could have spent six months at the Kirikiri Maximum Prisons.
As the dust of the scenario continues to hang in the air, the former chairman of the Lagos Mainland Local Government and George's godson, Prince Lukman Ajose (a.k.a. Aluka Joe), has suddenly joined the former Ondo State Military Administrator in prison.
Ajose's journey behind bars followed his conviction by the same Justice Oyewole of Ikeja High Court who sentenced his godfather to prison. In the former Lagos Mainland Council chairman's case he was sent to prison without an option of fine.
The Independent Corrupt Practices and Other Related Offences Commission (ICPC) had arraigned the Lagos Island-born PDP chieftain before the court on a six count charge of using his office for corrupt enrichment. With this development, the former council boss, who was elected on the platform of the Alliance for Democracy (AD) in 1999 becomes the second local government chairman to be arraigned over corrupt practices.
The first was the former chairman of Epe Local Government, Chief Shefiu Areh. While the case was on, the former council boss who was elected on PDP platform became paralysed and even lost his wife of many years. The current scenario, many concede is a great blow to the Lagos PDP, as the party's fortunes have been further dwindled by the development.
A pointer to this is the recent appointment of Mr Oluwatoyin Aganga as Lagos State's representative on the Executive Council of Federation (EXCOF) SBD scooped that George had sent the names of Chief Bode Oyedele, Hon. Moshood Salvador and Hon. Tunde Salawu to the Presidency for consideration, but for the first time, his list was thrown aside.
This, no doubt, is an indication that the PDP leader's incarceration has seriously affected the influence he wields within the system. With Ajose in the gulag, it is no doubt that it is now the story of 'make you follow me bumper to bumper' between the godfather and the godson.