AJUNWA LECTURES ON DOPE AT AFN LEAGUE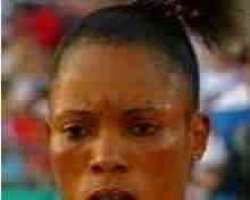 Chioma Ajunwa
Nigeria's first and only individual Olympic gold medallist, Chioma Ajunwa, has been listed to give talks on the challenges posed by doping in track & field events during the third leg of the AFN Golden League slated to begin today at the Sports Complex of the Yaba College of Technology, Lagos.
Ajunwa whose career was equally truncated by dope problems after jumping 8.12m to win the long jump gold medal for Nigeria at the Atlanta '96 Games, is expected to lecture athletes on the danger posed by taking performance-enhancing drugs.
Technical Director of the AFN, Sunday Bada, confirmed yesterday that Ajunwa was picked for the lecture because the serving police chief superintendent ' is in a better position to tell the athletes what dope is capable of doing to their careers.'
Bada, who remains one of the very few Nigerian athletes to have untainted running careers, said that the lecture was timely now to stem the ugly trend of several athletes turning to doping to achieve fame.
'Because we have had several cases of dope problems of late, the federation became worried that we need to stem the tide by several means, one of which is through lectures like this to let the athletes know the harm in doping,' observed the former world 400m champion.
Meanwhile, the third leg of the AFN Golden League begins today with all-comers slated to hold today at the YABATECH Sports Complex. Bada revealed that the idea of all-comers in this leg was to encourage athletes from the state who have been training with no competition to try their lucks at the League. 'Like we (AFN) have done in the other two legs, we just felt it was fair that we also give such opportunities to athletes in the Lagos environment to also try their lucks,' remarked the AFN technical director.