Parting gift: Man City owner Sheikh Mansour gives Pellegrini Lowry painting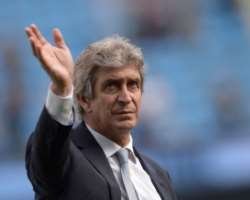 Manuel Pellegrini must have thought he was going to finish the Premier League season empty-handed. Luckily for the departing Manchester City manager, the club's deep-pocketed owner Sheikh Mansour has got him a leaving present – a LS Lowry painting.
The gift – which is streets apart from the multi-million pound Ferrari Roman Abramovich reportedly bought Jose Mourinho when the Portuguese boss was sacked by Chelsea back in 2007 – was given to the Chilean before City's final home game of the season against Arsenal on Sunday, the Manchester Evening News reports.
The gift is particularly apt as Lowry – who died aged 88 in 1976 – was a Manchester City fan who painted landscapes of the North of England. While the club has not revealed details of which Lowry Pellegrini was bought, the record price for one of his works is £5.6m for the 1949 landscape "The Football Match", which was sold at auction in 2011.
Pellegrini, 62, was appointed City manager in 2013, succeeding Italian Roberto Mancini at the Etihad. In three years he has won the Premier League title and two league cups, the most recent of which came in February.
He has said he wants to visit Scotland and some of England's southern towns before summer, when he is likely to be in demand by some of Europe's top clubs. He will be replaced by Bayern Munich manager Pep Guardiola.