Wolfsburg stun Real Madrid 2-0 in Champions League quarterfinal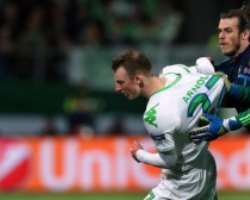 Real Madrid beaten 2-0 in first leg of Champions League quarterfinal
Wolfsburg secure advantage with first half goals
Paris Saint-Germain held 2-2 by Manchester City
Zlatan Ibrahimovic has penalty saved
(CNN) At the Camp Nou it was the real deal — on Wednesday it was in real trouble.
Real Madrid, the most successful club in the history of the competition, suffered a hugely embarrassing 2-0 defeat at German side Wolfsburg in the first leg of its Champions League quarterfinal tie.
Wolfsburg, which hadn't won a game since qualifying for the last eight, shocked its illustrious opponent with a high octane performance full of heart, desire and no shortage of quality.
On Saturday, Real's players grouped together in the Camp Nou locker room to celebrate with what has now become the almost obligatory team photograph.
Fresh from defeating Barcelona, its arch rival and ending the 39-match unbeaten streak which has seemingly catapulted the Catalan club towards another La Liga title.
But in a game in which it was huge favorites not only to progress but to do so with ease, it came unstuck.
"I'm not happy with how the game went — especially the first half," Real coach Zinedine Zidane told the tournament's website.
"That's football, that's how difficult it is. That's what happens when you don't play with intensity from the start.
"We have to rest and think about the return leg because we still have the chance to change everything."
Real, 10- time winners, was beaten by a Wolfsburg side which had never previously managed to qualify for the last eight of the competition.
Two first half goals by Ricardo Rodriguez and Maximilian Arnold condemned Real to defeat and leaves it with a difficult, although not impossible task, to qualify for the last four of the competition.
Zidane had led his side to six successive victories going into this game and yet he could only watch on from the sidelines as his plans fell apart.
And yet there was little sign of what was to follow in the opening stages of this contest. It required just two minutes for Cristiano Ronaldo to have the ball in the Wolfsburg net, though his effort was ruled out for offside after a wonderful one-two between Karim Benzema and Toni Kroos had allowed the Portuguese forward to move in on goal.
If that was a let off then what followed two minutes later was equally fortunate for the home side as Real was denied a penalty after Gareth Bale appeared to be tripped by a rather clumsy looking challenge from Luiz Gustavo. Gianluca Rocchi, the referee, waved away the appeals of the visiting players much to their consternation.
Wolfsburg, playing in their first ever Champions League quarterfinal, overcame Belgian side Gent in the previous round, largely due to a wonderful performance in the first leg by Julian Draxler, the exciting young winger.
It was Draxler who provided the catalyst for his side as they set about shocking Real with a fine first half performance. The highly-coveted 22-year-old danced his way to the byline and crossed for Andre Schurrle, who was tripped inside the penalty by Casemiro.
This time the referee did point to the spot and Rodriguez stepped forward to fire past Keylor Navas — the first goal the Costa Rican had conceded in 738 minutes of Champions League action.
Real appeared rattled and fell further behind just seven minutes later.
It was Draxler, once again, who started the move, switching the play to Bruno Henriques and when his cross managed to pierce a seemingly non-existent Madrid defense, Arnold took full advantage and slotted him his side's second.
Never before had Real conceded two goals in the first 25 minutes of a Champions League knockout game — and yet against a Wolfsburg side, eighth in its own domestic division, it was in danger of being torn apart.
Real's evening grew increasingly miserable when Benzema, who had earlier wasted a fine chance with a header, was forced to limp off after sustaining an injury earlier in the half.
Wolfsburg continued to impress after the interval and Schurrle should have added a third, taking a pass by Henrique in his stride before unleashing a fierce effort which flew over the bar.
Real threatened when Ronaldo forced Diego Benaglio, the Wolfsburg goalkeeper, into a sharp save but rarely did it look like finding a way back into the contest.
For Wolfsburg, which was beaten 3-0 by Bayer Leverkusen in the Bundesliga last weekend with a display which German newspaper Suddeutsche Zeitung felt was so poor that "it could amount to a new Volkswagen scandal".
Now it has an opportunity to dream of a place in the last four. And why not? It will know that Real has been knocked out in the last eight Champions League knockout rounds in which it lost in the first leg.
"This must not be the end for us," Dieter Hecking, the Wolfsburg coach said before this contest — it just might not be.