Rerun Elections: NGO Cautions Politicians Against Impunity; Urges INEC To Be More Proactive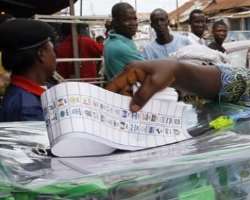 As residents of River State are yet to recover from the political imbroglio, destruction of properties, killings and violence that accompanied the rerun elections held across the state recently, a pro-good governance organization, Beyond Boundaries Legacy Leadership Initiative has charged politicians to avoid the culture of impunity in their quest for power and profligacy in the discharge of their duties to the electorate.
The organization made the call through a press statement signed by her Executive Director, Comrade Omaga Elachi Daniel. They expressed dissatisfaction with the manner in which hatred is brewed among supporters of political parties in desperation for electoral victory by politicians at the expense of the peace and security of the nation.
Speaking further, Comrade Omaga noted that Nigeria cannot witness any meaningful development in the nearest future if politicians do not desist from the practice of imposing themselves and their parties on the people. He stressed that the era of impunity has gone and any calculated attempt to drag the nation back to her vomit portends a great danger for our democracy.
"We wish to berate our electoral umpire for her inability to organize free, fair and credible elections so far in some of the states and constituencies where rerun elections are tenable. It is indeed a national shame if after inheriting a robust INEC, we have been suddenly plunged into a jamboree of inconclusive elections". "We are urging the present leadership of INEC to be more proactive so that the gains of our democracy will be sustained. Adequate welfare and security must be provided for electoral officers especially corps members who have continued to lose their lives, subjected to pitiable conditions, intimidation and molestation by political thugs in the course of serving the nation" they said.
Finally, we wish to commiserate with the family of Samuel Okonta, the corp member who lost his life during the Rivers rerun elections and to urge party supporters to shun violence and killings, as no politician's ambition is worth the blood of any citizen.