I always knew Jamil would be a Pampers Ambassador… Teebillz Boast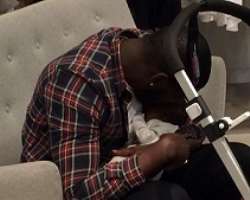 Celebrity couple Tiwa Savage and Teebilz have a cute little boy, Jamil A.K.A Jam Jam. The baby was made pampers ambassador early this year.
The commercial features Tiwa Savage and son, which has been running on billboards, magazines , online Ads and TV.
The proud daddy, Teebilz , who is happy about the deal took to his page to express how he felt.
He boasted about knowing Jamil would be pampers ambassador right from the photo-shoot he had at 2weeks old.
it's good to have foresight about things, but I wonder why he never made mention of his vision before the deal with papers came to light.
he wrote: '' I remember telling your mum you will be a pampers ambassador for your first photo-shoot when you were two weeks old without even knowing that would soon get a call from pampers about the same vision I had. Now look at you staying cool with your pampers.''