NASS to support states' agitation for refunds over federal roads rehabilitation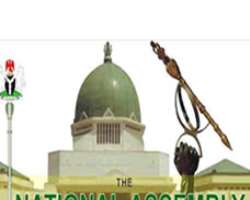 The National Assembly (NASS) on Sunday said it would support for states' governments agitation for refund of funds they spent on rehabilitating federal roads.
The Senate President, Bukola Saraki made the pledge at Nkalagu, Ishiellu Local Government Area of Ebonyi during a thanksgiving held by Senator Obinna Ogba (PDP-Ebonyi Central).
According to him, rehabilitating federal roads in their states was a huge sacrifice from state governors for the development of the country.
"The state governments need to be encouraged to get the refunds because if this is not done, they will be discouraged to do more.
"The senate would definitely support them on this issue as it is for the peoples' good," he said.
'It will be under the condition for Ebonyi that the funds would be used to develop Nkalagu where the agreement of our assistance was reached,' he said.
Saraki said that Ebonyi central constituency made no mistake in choosing Ogba to represent, saying that he had distinct qualities.
The state governor, Dave Umahi, in his remark, commended the senate for its untiring efforts and sacrifices for the unity and development of the country.
'We, however, beg you to intervene in the issue of refunding the state governments of funds expended in rehabilitating federal roads in the country.
'State governments are owed a total of N556 billion by the Federal Government on rehabilitated roads; we seek a law that makes it mandatory to refund states whenever such projects are executed.
'We would even accept the refund of initial 50 per cent of the funds with negotiations on the balance as the federal roads are used by citizens of the various states,' he said.
He congratulated Ogba on the occasion and noted that all current political office holders in the state achieved success by the special grace of God.
Ogba, who thanked Saraki and the people, said that the occasion was unique because it marked his unprecedented victory over forces that tried to 'steal' the mandate given to him by God.
'I therefore rededicate myself to the service of my people, to bring sustainable and people-oriented development in agriculture, infrastructure, among others,' he said.
The New Agency of Nigeria (NAN) reports that the occasion was marked with a Holy Mass officiated by Rev. Fr Gerald Nebo and thanksgiving by the Ogba family. (NAN)