Ronaldinho at 35 refuses to retire, seeks new club in 2016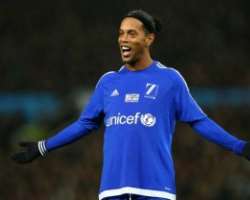 Former Brazil international Ronaldinho says he has no plans for retirement and will secure a new club after celebrating the Rio carnival in February.
The 35-year-old two-time Fifa World Player of the Year has been without a club since cancelling his contract with Fluminense in September 2015.
He has spent his time travelling the glove to participate in charity matches and this week returned to Flu this week to compete in the Florida Cup in USA where he denied suggestions he could be set to retire from the game.
"There is a lots to come in 2016," he told reporters.
"I'll decide what to do next after carnival. For now, I plan to travel the world to promote football but now is not the time to stop. I will play for a little longer.
"It felt good to feel the affection of the fans [in USA]. It made me very happy. Now I have to get on with my life and do my best to repay what they have given me."
Ronaldinho, who did not train with his old club in USA and admitted he was there in more of an ambassadorial role, made his 11th and final appearance for Fluminense came via a substitute appearance in their 1-0 defeat to Internacional on Wednesday.
(Goals.com)