Release or charge our son to court – Metuh's family tells FG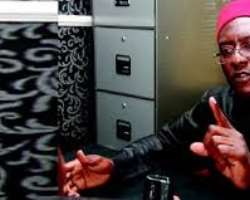 Four days after the arrest of the National Publicity Secretary of the Peoples Democratic Party, PDP, Chief Olisa Metuh, by officials of the Economic and Financial Crimes Commission, EFCC, his family has cried out, demanding that he should be released or charged to court.
In a statement, yesterday by Chief Gilbert Metuh for the Obi-Ezeani- Nnewi family, it said that the charges for which the PDP's spokesperson was arrested had not be known to him, the family and the public.
The family raised alarm that it was worried about the health and safety of Metuh.
It will be recalled that officials of the EFCC, Tuesday, arrested Olisa Metuh for interrogation and he has since remained there.
The family's statement said, among other things: 'Whereas the charges for which Chief Metuh is being detained for over 48 hours now had not been formally made known.
'We have confronted our son with the allegations (in the media) and he assured us that they are completely false.'
Sponsored Advert:
VACANCY! VACANCY!! VACANCY!!!
Job Position: Chief Accountant at an Agro-Allied Conglomerate in Delta State
Click here for details
The operatives, four in number, came in a White unmarked Toyota Hiace bus and picked Metuh from his Prince and Princess residence, Abuja.
A statement by his Special Assistant, Richard Ihediwa on Tuesday read: 'Officials of EFCC arrived the Abuja home of the spokesman of the opposition PDP, Chief Metuh, inviting him to follow them to the commission's headquarters.
'Upon enquiry for the reasons for the invitation, the officials stated that he has some issues to clear with the commission. They also said he was not being arrested but friendly invited. The operatives, four in number, came in a White unmarked Toyota Hiace bus.' -Vanguard.