JUDGE AGAIN HALTS BELO MONTE DAM AUCTION IN BRAZIL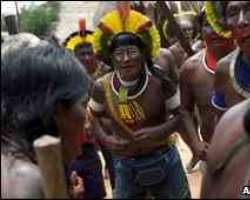 Indigenous tribes say the Belo Monte dam poses a threat to their way of life
Bidding for contracts to build a huge hydroelectric dam on a tributary of the Amazon in Brazil has been stopped for a second time.
A court granted an injunction halting the auction due later in the day.
The government says the Belo Monte dam on the Xingu River is crucial for economic development.
Indigenous groups and environmentalists oppose the dam, saying thousands of people will be displaced and a sensitive ecosystem damaged.
The latest development came just a day before Tuesday's planned auction and it is highly likely there will be further legal wrangling.
A spokesman for Brazil's electric energy agency, Aneel, indicated that the auction would go ahead if the injunction was lifted at the last minute.
Last week, a judge ruled bidding could proceed, overturning an earlier order to halt.
The proposal to build a hydro-electric dam on the Xingu river, a tributary of the Amazon in the northern state of Para, has long been a source of controversy.
The initial project was abandoned in the 1990s amid widespread protests both in Brazil and around the world.
Environmental groups say the Belo Monte dam will threaten the survival of indigenous groups, and the lives of up to 40,000 people could be affected as 500 sq km of land would be flooded.
The government says whoever is awarded the project will have to pay $800m to protect the environment.
Belo Monte would be third largest hydro-electric dam in the world, after the Three Gorges in China and Itaipu, which is jointly run by Brazil and Paraguay. It is expected to provide electricity to 23 million Brazilian homes.
With Brazil's economy continuing to show signs of growth, ministers say hydro-electric plants are a vital way to ensure power supplies over the next decade – and at least 70 dams are said to be planned for the Amazon region.
Critics say the Belo Monte plant will be hugely inefficient, generating less than 10% of its capacity during the three to four months of the low-water season.