Dangote Assures Nigerians On Economic Revival, Calls For More Investments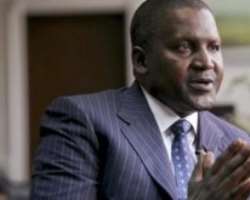 BEVERLY HILLS, January 03, (THEWILL) – Against the background of the current challenges facing the Nigeria, President of Dangote Group, Aliko Dangote has urged Nigerians to have faith in the ability of the Federal Government to turn the nation's economy around shortly, as the current challenges will soon be a thing of the past.
Dangote appealed to Nigerians to contribute their own quota by always doing what was right and adequately paying their taxes for the country to record real growth and development, pointing out that what Nigeria was going through was an experience that would guide her plan for the future.
Speaking to a group of businessmen who visited him in his office in Lagos in the spirit of the season, Aliko appealed to Nigerians to play their own civic role in the task of changing the fortune of the nation for the better by paying their taxes, as part of their own respective contribution to the growth and development of the country.
He urged the citizenry not to be discouraged by various challenges facing the nation, stating that, they were necessary steps needed for the nation to rank among the best industrialised nations in years to come.
He called on both indigenous and foreign investors to invest more in the Nigerian economy, revealing that Nigeria was still one of the best places to have good returns on investment.
According to Dangote, his company will invest more in Nigeria, create more jobs as he has an unwavering faith in the nation's economy.
Dangote, who is a member of the committee recently set up by the government with the mandate to resettle Internally Displaced Persons (IDPs), said what Nigerians needed most presently was economic empowerment,
and that it was only a working population whether self-employed or engaged could be economically empowered to contribute to the growth of the nation.
He then advised that local businessmen should take the advantage of abundant opportunities in the country to invest in employment generating businesses to empower Nigerians.
Many states, according to him, have benefitted from the scheme that will cost his foundation billions of naira, and that the scheme is being fine-tuned to get to states that are yet to be reached.
Other areas of intervention, which he said the Foundation had focused on include healthcare, nutrition, education, safe and healthy living through various interventions.