Army Nabs 7 Boko Haram Bomb Experts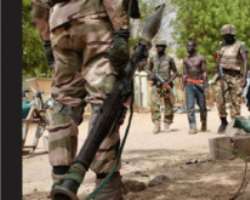 Nigerian Army troops in Kaduna State have foiled another insurgent attack, with the arrest of seven suspected Boko Haram members who specialise in bombs and Improvised Explosive Devices (IEDs).
A statement by the Army spokesperson, Colonel Sani Kukasheka, said from all indications, the suspects were in Kaduna to coordinate suicide bombings during the festive period.
Col. Kukasheka added that recently in Maiduguri, some of the terror specialists were arrested while trying to detonate IEDs carried in food containers in public places.
He said: "the arrest of these suspects would no doubt assist in the fight against terrorism in the country, more so as the military have technically defeated the Boko Haram terrorists in the field.
"The terrorists have resorted to attacking soft targets through suicide bombings, IEDs and harassing attacks on isolated communities".
The Army spokesman advised members of the public to be more vigilant and security conscious by reporting suspicious persons and movements to the security agencies.
CHANNELSTV