Man United: Lack of unity leaves Louis Van Gaal teetering on the brink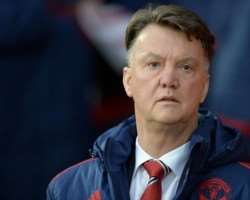 Just days after Jose Mourinho's abrupt departure from Chelsea , Louis van Gaal is teetering on the brink of becoming the next high-profile victim of the Premier League sack race.
The pressure is mounting on the embattled Manchester United manager, who was hunkered down at United's Carrington training base on Monday amid speculation he will be axed if his side lose either of their next two matches at Stoke City on Saturday or at home against Chelsea next Monday.
The 64-year-old cut a forlorn figure in the aftermath of Saturday's shock 2-1 defeat against Norwich City and his downbeat mood was instructive given the reports of dressing room unrest and boardroom doubts that have emerged since.
Elimination from the Champions League group stage foreshadowed a chilling December for van Gaal and subsequent losses against strugglers Bournemouth and Norwich, which knocked United out of the Premier League's top four and left them nine points behind leaders Leicester City , were even more damaging.
Until now, van Gaal has haughtily dismissed any criticism from fans and the media, but United's tame capitulation against Norwich left them without a win in their last six matches in all competitions and even the aloof Dutchman couldn't hide signs of strain as he talked in hushed tones about his predicament.
Being lambasted by a host of United greats and jeered by disgruntled supporters, a section of whom chanted for Mourinho to replace van Gaal at the weekend, has worn him down.
View gallery

Manchester United's manager Louis van Gaal (C) leaves the pitch after the match between Manchest …
And while publicly United's players have insisted van Gaal retains their support, as with Mourinho's sacking last week, the truth is somewhat different.
Mourinho was done in by mutinous Chelsea players who effectively downed tools after growing weary of his acerbic tongue and intense management style.
– Autocratic manner –
Similarly, van Gaal is reported to have lost the backing of several senior United stars because of his autocratic manner.
Their principle complaint is said to be the Dutchman's approach, both his overly cautious tactics and a perceived obsession with critical post-match analysis sessions with performance analyst Max Reckers.
View gallery

(L-R) Manchester United players Chris Smalling, Juan Mata and Anthony Martial walk off the pitch aft …
Tellingly, Spanish winger Juan Mata struggled to find an upbeat note when he talked on Monday of the complicated and tough situation United find themselves in.
"We all feel frustrated, same as last week, and we need to win a game as quickly as possible because it will change our mood and give us confidence," Mata wrote in his weekly blog.
"We are in a complicated situation and in order to get out of it we have to stick together and believe in ourselves.
"Our next chance to do it will be on Boxing Day at Stoke and that's not an easy game.
"No matter how tough the situation can be, I'm not even thinking about giving up.
"I believe that's the only way to get out of this bad streak."
Losing the dressing room would be damaging enough to van Gaal's future on its own, but to make matters worse, United's owners, the Glazer family, and executive vice-chairman Ed Woodward are beginning to consider whether they should ditch the former Barcelona and Bayern Munich coach halfway through his three-year contract.
Shocked by the level of vitriol directed at van Gaal and the apathetic manner of United's recent performances, a further flop over Christmas could signal the end.
And unfortunately for van Gaal, circumstances have conspired to make two of the most desirable managers in the world available at the exact moment he is at his lowest ebb.
Mourinho has made it known he would be happy to take over at United if a vacancy arises because he has no intention of taking a post-Chelsea sabbatical.
As well as the Mourinho option, Pep Guardiola will be available in the close-season as he is leaving Bayern Munich — making it a safe bet there will be little festive cheer when van Gaal sits down for his Christmas dinner on Friday.