Guus Hiddink Expected To Take Chelsea Job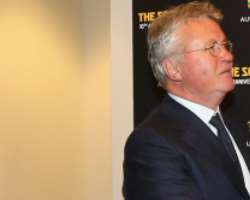 Guus Hiddink is expected to take the Chelsea job, with his former employers at the Australian FA having already wished him good luck.
Chelsea have not yet confirmed Jose Mourinho's successor after sacking the Portuguese on Thursday, but the Socceroos posted a congratulatory message to Hiddink on social media before later deleting it.
The 69-year-old had a caretaker spell in charge at Stamford Bridge in 2009 and guided the team to success in the FA Cup.
On its website, Football Federation Australia stated: "Guus Hiddink has taken temporary charge at struggling EPL giant Chelsea after the club announced they'd sacked coach Jose Mourinho overnight following the club's disastrous run in the English Premier League."
The article was later updated to say that Hiddink "is the leading candidate to become interim manager" of the Blues.
The well-travelled Dutchman managed Australia at the 2006 World Cup, helping the team reach the second round.
The official Socceroos Twitter feed announced: "Our former boss has taken charge at @ChelseaFC – Good luck Guus!"
The tweet was subsequently taken down.
On Friday morning, Hiddink remained the overwhelming favourite with bookmakers to replace Mourinho.
Meanwhile, former Blues striker Mateja Kezman has claimed Hiddink told him on Thursday that he had been given the Chelsea job.
Kezman said on the website of Croatian newspaper Index: "I do not know if it is officially confirmed, whether the club has announced it, but Guus told me earlier.
"I am convinced that with him Chelsea will recover. I would even say they are one of the favourites for the Champions League."
Kezman, who briefly played under Mourinho during his first spell as Blues manager, is not shocked owner Roman Abramovich has decided to act.
"I am not surprised by Abramovich's decision. Jose is a superb coach but the results and position in the league are catastrophic and unbecoming the reputation of a club like Chelsea.
"It is incredible that this team were champions last season and are now fighting for dear life in the Premier League.
"I think this decision is correct and Guus Hiddink is a great choice."
SKYSPORTS