OVERWHELMING EVIDENCE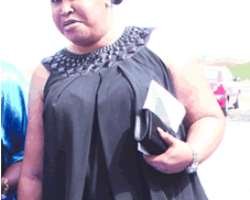 Kenturkey chicken?
Some things are not just meant for some people. The original designer of this dress had to make a report to the defense headquarters for style impersonation. Big sis, this is not meant for you or have you forgotten what section 47 subsection 222a says? ' …flabby areas should be downplayed'. You have been pronounced guilty and sentenced to three months exercise in high jump and you are hereby restricted to a special diet of vegetables and cereals.
Desperado
Your face doesn't suit this look you are trying hard to pull because it's a great contrast. Research findings now show that this cleavage palaver can now be compared to pure water, in fact pure water now has more value than this show of shame. For flagrantly flouting the law you are hereby sentenced to 50 hours of hard labour at the Mile12 market.


.


Spilt milk
Is this a new style or invention? But this is suicidal! You have just flouted section 203 of the mammary glands act. You are hereby pronounced guilty for aiding and abetting such injustice to the human breasts. You are fined N900, 000.


Cleveage-holic
Madam, did your breasts fall flat in this potato sack you call a dress? This is just outrageous and my jury couldn't help getting angry at the evidence against you. Haven't you heard that less is better ? For committing this unpardonable crime you have been fined N1million.


Four-count charge
Offence Number one:
Your bra straps are so visibleOffence Number two:
Your hair is riddled with accessories that we almost mistook you for Barbie. Offence three:
What are those area boys doing on your back? You knew you don't have such a good skin, yet you offended our sensiblities.
Offence Four:
Is this dress yours? If that is true then the collar shouldn't be up there. You have been fined N500,000.


Style misfit
Madam, cutting off your dress to reveal your flesh doesn't make you more or less fashionable. Although your lawyer tried to prove beyond reasonable doubt that you have just started to find your fashion feet, still, it is no excuse. You have flouted section 354 of the 1990 cleavage constitution. This is a style offence, and you have been fined N800, 000.