GROUPS PETITION JONATHAN ON NEED FOR SECOND NIGER BRIDGE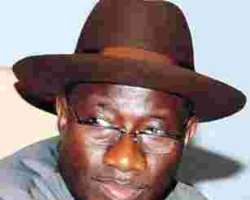 A coalition of civil society groups, including the Civil Liberties Organisation, International Society for Civil Liberties and the Rule of Law, and Human Rights Development International, have petitioned Acting President Goodluck Jonathan on what they described as the precarious state of the Niger Bridge at Onitsha, Anambra State.
The coalition also included the poor state of federal roads in Onitsha, which they said had become death traps in the area, as part of its complaints.
It called on the Federal Government to immediately commence the construction of the second Niger Bridge without waiting for the collapse of the existing one on account of old age, saying the government should send a supplementary appropriation bill for the new bridge to the National Assembly.
The civil society groups suggested the involvement of Delta and Anambra states in the funding of the project as its would-be beneficiaries, advised that the states may be ignored if their involvement would delay the execution of the facility.
In two separate petitions by the groups which also include the Human Rights Club of the Legal Research and Resource Development Centre, Anambra Democratic League, Traders' Rights and Empowerment Project as well as Alliance for Credible Elections and Good Governance in Anambra State, they warned about the imminent collapse of the Niger Bridge owing to over-use, congestion and old age.
They stated that the first set of such warnings was given more than 20 years ago when the Babangida regime tasked the Nigerian Society of Engineers to draw a master- plan for the construction of the second Niger Bridge project.
They observed that there was a general consensus that the bridge was sinking daily but no serious attention has been given to it, arguing that apart from the fact that the facility was built almost 50 years ago, its maintenance had not been thorough.
The groups said, 'It is the most busy and congested bridge in Nigeria today. Out of Nigeria's six geo-political zones, four of them substantially depend on this bridge for sustenance of their commerce and industry. In other words, the bridge services human and material movement from South- South, North-Central, South-East and South-West geo-political zones. Human and material movements also take place to and fro from the North-East and North-West geo-political zones via this all-important bridge.'
They noted that the pace of work on the Onitsha-Awka-Enugu dual carriageway project awarded to two construction companies by the Federal Government in 2009 had been slow.
They added, 'Presently, the Upper-Iweka (Onitsha) portion of the road has become a nightmare and a death trap. Accidents with human and material casualties have become a routine at the portion. For instance, on April 9, 2010, multiple fatal accidents occurred at the Old Asaba/TRACAS Park portion of the road, very close to the Upper Iweka Flyover, resulting in the instant death of about 10 people.'