COUPS NO LONGER FASHIONABLE, CDS TELLS W'AFRICAN DEFENCE CHIEFS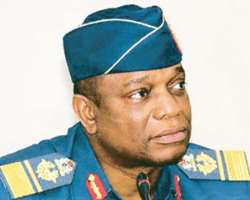 The Chief of Defence Staff, Air Chief Marshal Paul Dike has said that the protection of democratic values should be the fundamental objectives of armed forced in the region.
He made the statement on Thursday during the opening of a two-day meeting of the ECOWAS Committee of Chiefs of Defence Staff in Cotonou, Republic of Benin.
The News Agency of Nigeria reports that Dike said this would serve as a way of instilling the culture of their non-interference in the politics of member-states.
He told the regional defence chiefs that they all had to realise that the concept of unconstitutional change of government had become outdated and unacceptable in the new world order.
'While this disturbing trend persists (in some countries of the sub-region), with attendant negative consequences for peace and security, the prospect of socio-economic and political development would remain elusive.
'It is therefore incumbent on all of us saddled with overseeing the defence and security architecture within the region, to constantly appraise our capabilities for anticipating, preventing and, where necessary, mitigating the impact of the crisis within the region, while protecting democratic values,' said Dike, who chairs the committee.
He noted that despite all the efforts of regional leaders and individual nations to ensure collective and individual security, the proliferation of small arms and light Weapons had become a major security challenge in the region, which had hampered the efforts to ensure peace.
Dike stressed that individual and collective security initiatives may not achieve the desired objectives unless the increasing menace of small arms and light weapons, which continues to frustrate efforts to consolidate peace and security within the region, is tackled.
'It is common knowledge that the smuggling of small arms and light weapons has become a major security challenge within our region.
'There is a disturbing preponderance of these illegal weapons, which criminals and other undesirable elements employ, to exacerbate internal communal crisis and penetrate criminal activities, including cross-border banditry within the region.
'These are matters of great concern that require concerted and drastic measures,' he said.
The meeting is being held on the sidelines of the field training exercise – tagged Exercise Cohesion – aimed at validating the Eastern Battalion of the ECOWAS Standby Force.
Countries with troops at the exercise include Nigeria, Republic of Benin, Togo and Sierra Leone, while elements of the Mission Planning Management Cell and the ESF headquarters staff are also in attendance.