Emerhor Commends Oyegun's Patriotic Landmarks At 76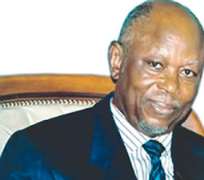 All Progressives Congress (APC) National Chairman, Chief Odigie Oyegun has been described as a true nationalist who over the years exhibited genuine love for Nigeria through his struggles for the enthronement of democracy, good governance and socio-economic development.
Olorogun Otega Emerhor in a statement by his Chief Publicist, Dr Fred Latimore Oghenesivbe further posited that the APC helmsman despite several direct and indirect invitations refused to join the band wagon of politicians who join the Peoples Democratic Party (PDP) for the mere quest for political power at a time the progressives where still pushing forward to take over national government.
He commended Chief Oyegun's inestimable love for his country and urged Nigerians at home and in the Diaspora to emulate the superb qualities of the APC National Chairman by assisting President Muhammadu Buhari and the APC leadership to facilitate the on-going fight against corruption and socio-economic remodeling of Nigeria.
Emerhor who is the leading light of the APC in Delta State and governorship candidate in the 2015 elections congratulated the APC National Chairman who clocked 76 years on August 12.
He said Chief Oyegun had solid track record as a super federal permanent secretary during his years in civil service and crowned it as the first democratically elected Executive Governor of Edo State, adding that the finger of God upon his life made it possible for him to see the APC through to becoming the first political party to defeat an incumbent President in the history of the nation's electioneering process.
Oghenesivbe quoted Emerhor as saying that Oyegun has been discharging his functions as the National Chairman of the APC without blemish such that the Buhari's administration has position itself for effective leadership and delivery of genuine dividend of democracy to the envy of the opposition, ensuring a clear cut agenda for efficient human, material and financial resources management for the good of all Nigerians.
Chief Oyegun is a worthy leader and patriotic citizen who for the love of his country dedicated a greater part of his life to serve Nigeria and humanity which is why the Delta APC family will continue to pledge our absolute loyalty to his leadership and wish him greater wisdom, God's blessings and many more years as he celebrate his 76th birthday, the statement added.