Embattled Representative Of Leko/Koma Constituency Failed To Produce Witnesses In Court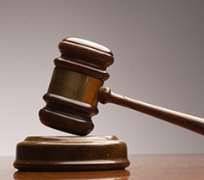 The member representing Leko/Koma in the Adamawa House of Assembly, Hon.Thomson Saleh of All Progressives Congress (APC) has failed to produce witnesses in a election tribunal court in Abuja
A Case of election irregularities was instituted against him challenging the legitimacy of him winning the election in his constituency.
The challenger, Aloysius Baba Doke who was a former lawmaker and contested in the plat form of People Democratic Movement and lost said Thomson rigged the election in Leko/Koma one,a ward that was manipulated by Thomson to presumed him a winner.
Aloysius Baba Said "Thomson rigged and falsify the figures of the results in Leko/Koma because of the fact that is not going to win now he failed to produce his witnesses an indication that he partake in all the election irregularities in Leko/Koma one ward"
The Election tribunal Judges, Justice Anthony Onovo of Enugu State High Court, Justice Abbas Ahman of Kebbi State High Court and Justice A. A. Akinyemi of Ogun State High Court and gave both the plaintiff and defender ten days to come to the court in with their briefing records