I Don't Have Anything With Danny Young –Iyabo Ojo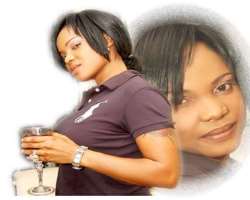 FOLLOWING a certain report that actress, Iyabo Ojo, is enjoying a romantic affair with hip hop singer, Danny Young, the fun-loving actress has vehemently denied the report, saying she doesn't even know who Danny young is.
When nollywoodgists.com sought her response as regards the report, Iyabo said: "I don't even know who Danny Young is. I don't have anything to do with Danny Young because I don't even know him! Is he Wasiu or Ayinde?"
Continuing, the mother of two – Festus and Priscilla – who recently held her birthday party amid pomp and glee inside the posh Omole Phase I estate said: "I don't know why people just go about cooking up stories and lying about what is not. How can I be having an affair with somebody that I don't even know? I mean, how possible can that be? All I can tell you about this nonsense spreading about is that I don't have anything to do with anybody called or known as Danny Young and I appreciate it when people talk about better things and not just mere lies, which are figment of some people's imagination."
Iyabo, who is one of the prominent Yoruba actresses, in recent time starring in three out of every four movies released, has been in the eyes of the public for several reasons. She was romantically linked to actor cum producer, Muka Ray Eyiwunmi, at one time but she has denied the allegations of any romance between them. Though she claims to have a man in her life, the actress has continually said that marriage is not on her cards at the moment.
She stunned many movie lovers when she released, Agogo Ide in 1998 and many have been talking about her brilliance in the Yoruba movie world.
This tattoo-loving woman, whom those in the know said even has her cleavage tattooed, was the cynosure of all eyes when she staged a befitting burial – with top society women and men – for her late aunt in Ikeja few weeks back. That she has got a fashion sense is stating the obvious because she is known to have always left the male folks drooling whenever she steps out with her provocative outfits.
The OND holder in estate management, who was introduced into acting by the Odunfa Caucus of the Association of Nigerian Theatre Practitioners (ANTP), and has performed in most of Eyiwunmi's productions, has flicks like Jenifa, Adakeja Bi Esu, Igbako Esan, Agogo Ide, Odun Baku, Asa and Ale Apon to her credit.
Born in Obanikoro area of Lagos, this Abeokuta indigene has been a target of discussion and she seems to be enjoying every bit of the cake aside for the scandals, which she said turn her off.
However, Klieglights was told that Iyabo has just completed the shoot of her new flick, which title she has kept under wraps for reasons best known to her. The works, it was further gathered, is expected to hit cinemas in a few months before being released into the Nigerian viewing market.
www.nollywoodgists.com
Story by nollywoodgists.com