Senator Osita Izunaso Threatens To Kidnap And Kill Popular Imo Lawyer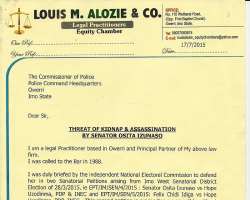 A well known Human Rights Lawyer in Imo State, Barrister Louis M. Alozie has raised alarm that his life has been threatened by Senator Osita Izunaso, who represented Imo West Senatorial district between 2007 and 2011.
In his petition to the Commissioner of Police Imo State dated 17th July 2015 (see attached), Barrister Alozie explained how he received a call from one Kennedy Asode with GSM No: 08033225885, on the 16th of July 2015 at exactly 11:41 am, who sort to know Alozie's position and cooperation with Senator Osita Izunaso who had filed a petition against Senator Hope Uzodinna, PDP and INEC over the outcome of the concluded Senatorial election held early this year. Barrister Alozie during the conversation with the said Kennedy Asode was said to have informed him that having been briefed by INEC (the electoral body that supervised the election), he would continue to defend the election that took place by acting professionally without compromise.
Unknown to Alozie that Senator Osita Izunaso was with Kennedy Asode, declined he would not speak with Izunaso, was shocked when Osita Izunaso picked up the phone from Kennedy and started to threaten him. Izunaso was said to have promised to unleash the people of Orlu zone including thugs, cultists and killer squads on Barrister Alozie if he did not withdraw from defending INEC or get compromised.
Barrister Alozie who was called to the bar in 1988 has since the threat to his life been in hiding, has therefore urged the Imo State Police command to ensure that no harm comes to him or any member of his family. And that the said Osita Izunaso should be held responsible should any harm happen to him and members of his family.
It should be recalled that Barrister Louis Alozie is the personal lawyer of popular socio-political crusader, Citizen Ikenna Samuelson Iwuoha. It was Barrister Alozie who defended Citizen Samuelson in January 2010 when he was abducted by the then Government. It was Barrister Alozie who got the crusader out from Prison custody in February 2010 when he was incarcerated. It was Barrister Alozie who got the same crusader out from prison custody in June 2010 when he was detained. It was Barrister Alozie who got the same crusader out from prison custody in March 2011. It was the same Barrister Alozie who worked tirelessly and got Citizen Ikenna Samuelson and his wife out from Prisons custody where they spent 11 months and 6 ½ months respectively on the orders and conspiracy of Governor Okorocha, Imo Police Command and the disgraced former speaker of Imo State House of Assembly, Mr. Benjamin Uwajumogu on the allegation of murder, after they had failed to assassinate the socio-political crusader.
It is therefore being viewed in Imo State that the threat to Barrister Alozie is a masked and disguised threat to Citizen Ikenna Samuelson Iwuoha. The social crusader is therefore calling on the Inspector General of Police to order the arrest of Senator Osita Izunaso. Hear Citizen Samuelson, "Yesterday it was Chief Sir Barrister Mike Ikenna Ahamba (SAN). Today, it is Barrister Louis Alozie. Imo lawyers are no longer safe in their state. Osita Izunaso must be arrested". Citizen Ikenna Samuelson concluded.
IMO INITIATIVE REPORTING FROM OWERRI – IMO STATE
21 – 07 - 2015
PETITION PAGE 1
PETITION PAGE 2